Episode notes
New to The Turnaround? Subscribe in Apple Podcasts or with your favorite podcatcher to make sure you automatically get two new interviews a week through August 15th.
Marc Maron is a standup comedian, actor, and host of one of the biggest podcasts ever: WTF with Marc Maron. Recording in his garage in Highland Park, Los Angeles, Maron has long, free-wheeling conversations with every kind of famous person you can think of, from comedians, to actors, to musicians — even President Barack Obama when he was still in the White House.
When you listen to WTF, though, you aren't just listening for the guest. Maron has a big personality, and it shows in his interviews. He's not rattling off a list of questions, but instead he's having a really intimate and revealing conversation. It doesn't always go great, but it always reveals a lot about the guest, even if they aren't into it.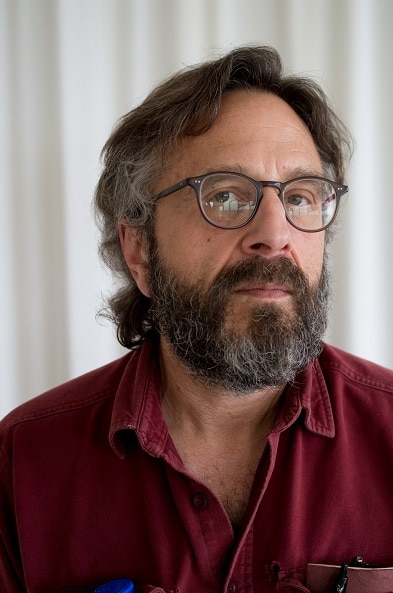 Marc and Jesse talk about what it's like recording his very popular show in his garage, his tactics for getting people to open up to him, and the differences between his standup and podcast personas. They also discuss two very different people who loom large in their consciousness: Terry Gross and Chris Hardwick.
Marc's podcast WTF with Marc Maron comes out twice a week. He also has a book called Waiting for the Punch coming out this fall.
The Turnaround is a production of Maximum Fun in partnership with the Columbia Journalism Review. Visit their website to learn more about their "mission to encourage excellence in journalism in the service of a free society," and to read edited transcripts of our other Turnaround episodes.
Hosted and created by Jesse Thorn
Produced by Kara Hart and Nick Liao
Senior Producer: Laura Swisher
Managing Director: Bikram Chatterji
Music for The Turnaround provided by Mobius Van ChocStraw.
Special thanks to Kyle Pope and his team at CJR, Darrel Frost, and Emilie Erskine.
About the show
The Turnaround is a show about our greatest living interviewers, hosted by Jesse Thorn and produced by Maximum Fun and Columbia Journalism Review. Featuring conversations with prominent interviewers about their careers and their craft, the show is a perfect resource for a new generation of storytellers and journalists. You'll hear Jesse speak with Larry King, Terry Gross, Werner Herzog, Audie Cornish, and so many more!
How to listen
Stream or download episodes directly from our website, or listen via your favorite podcatcher!