Episode notes
New to The Turnaround? Subscribe in Apple Podcasts or with your favorite podcatcher to make sure you automatically get two new interviews a week through August 15th.
Jesse's guest this week is documentarian Errol Morris.
Errol Morris is a critically acclaimed documentary filmmaker who has dozens of film and tv credits to his name. He won an Oscar for his 2003 film, The Fog of War, and has taken home many other awards for his films.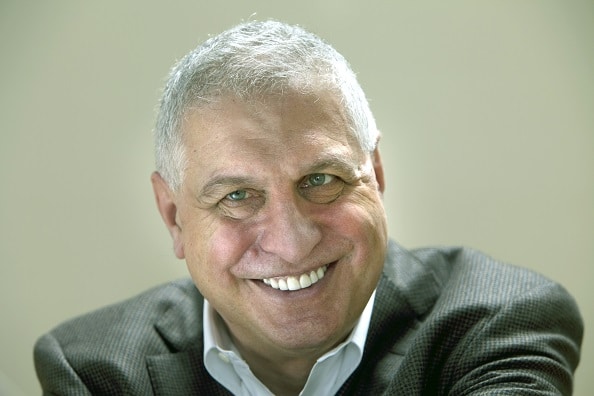 Photo: Courtesy of the artist
Morris has a really unique interview style that becomes very apparent to anyone who has seen one of his films or television ads. He invented a machine called an interrotron to assist him when interviewing, which allows his subjects to see him to look into his eyes while being filmed straight on. He is also known for yelling questions off screen, and those moments making it into the final edit.
Errol's films often transcend the barrier of the theater screen and jump into reality. One of his most well known films Thin Blue Line, which was about a young man convicted of shooting a police officer and was maintaining his innocence, has been attributed to the man's release the from prison the next year.
Errol and Jesse talk about how he got into interviewing, and in particular his time spent interviewing mass murderers, before he was a documentary film maker. Errol tells Jesse about the impact Truman Capote had on his career. Finally, they discuss his other career, making television commercials, and about how he learned his greatest interviewing tip: to shut the fuck up.
Errol has a new Netflix program Wormwood debuting which is being called a "hybrid series" of real life interviews and dramatizations set to come out later this year. You should also check out one of Jesse's favorite projects from Errol's, a docuseries made in partnership with ESPN called It's Not Crazy, It's Sports.
The Turnaround is a production of Maximum Fun in partnership with the Columbia Journalism Review. Visit their website to learn more about their "mission to encourage excellence in journalism in the service of a free society," and to read edited transcripts of our other Turnaround episodes.
Hosted and created by Jesse Thorn
Produced by Kara Hart and Nick Liao
Senior Producer: Laura Swisher
Managing Director: Bikram Chatterji
Music for The Turnaround provided by Mobius Van ChocStraw.
Special thanks to Kyle Pope and his team at CJR, Darrel Frost, and Emilie Erskine.
About the show
The Turnaround is a show about our greatest living interviewers, hosted by Jesse Thorn and produced by Maximum Fun and Columbia Journalism Review. Featuring conversations with prominent interviewers about their careers and their craft, the show is a perfect resource for a new generation of storytellers and journalists. You'll hear Jesse speak with Larry King, Terry Gross, Werner Herzog, Audie Cornish, and so many more!
How to listen
Stream or download episodes directly from our website, or listen via your favorite podcatcher!