Episode notes
New to The Turnaround? Subscribe in Apple Podcasts or with your favorite podcatcher to make sure you automatically get two new interviews a week through August 15th.
It's Larry King! You know, the real Larry Legend — the guy so famous that all you'd have to do is draw a stick figure with a pair of glasses and suspenders, and you'd know it was him. Otherwise you know him from Larry King Live, CNN's most watched show ever that ended in 2010 after a remarkable 25-year run. Larry's pretty much interviewed everyone over his 60 years in broadcasting: actors, world leaders, superstar athletes, UFO experts, even Eleanor Roosevelt.
Prior to his CNN show, Larry did a bunch of different things in broadcasting: he had a nightly radio show on the Mutual Broadcasting System that ran for many years. Larry was also a sports color man for the Miami Dolphins during their perfect season. But interviewing has been the main thing that has held together his career.
For this episode, Jesse visited Larry King at his palatial home in Beverly Hills. They sat in his trophy room, literally surrounded by bookcases full of Emmy awards and letters from U.S. presidents.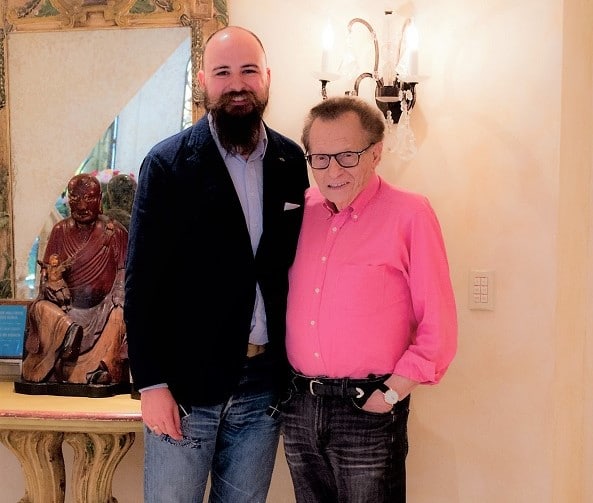 Photo: Jesse Thorn
Despite his rise to celebrity from humble beginnings in Brooklyn, Larry has always considered himself an every man. He explains to Jesse why being "dumb" — knowing relatively little about his subjects and asking them simple, obvious questions — has been his greatest asset as an interviewer. Very much a creature of live broadcasting, he loves the thrill of going into an interview cold and not knowing what's going to happen next.
Larry's a natural storyteller, and he tells Jesse about what it was like to interview guys like Richard Nixon and Frank Sinatra. He gets introspective too, talking about both his proudest accomplishments and deepest regrets, as well as his biggest fear: death.
You can catch Larry still doing his thing after 60 years on his new show Larry King Now, available on Ora TV and Hulu.
The Turnaround is a production of Maximum Fun in partnership with the Columbia Journalism Review. Visit their website to learn more about their "mission to encourage excellence in journalism in the service of a free society," and to read edited transcripts of our other Turnaround episodes.
Hosted and created by Jesse Thorn
Produced by Kara Hart and Nick Liao
Senior Producer: Laura Swisher
Managing Director: Bikram Chatterji
Music for The Turnaround provided by Mobius Van ChocStraw.
Special thanks to Kyle Pope and his team at CJR, Darrel Frost, and Emilie Erskine.
About the show
The Turnaround is a show about our greatest living interviewers, hosted by Jesse Thorn and produced by Maximum Fun and Columbia Journalism Review. Featuring conversations with prominent interviewers about their careers and their craft, the show is a perfect resource for a new generation of storytellers and journalists. You'll hear Jesse speak with Larry King, Terry Gross, Werner Herzog, Audie Cornish, and so many more!
How to listen
Stream or download episodes directly from our website, or listen via your favorite podcatcher!