Episode notes
New to The Turnaround? Subscribe in Apple Podcasts or with your favorite podcatcher to make sure you automatically get two new interviews a week through August 11th.
This week Jesse is in conversation with German filmmaker Werner Herzog, the man responsible for films like Grizzly Man, Tale of Forgotten Dreams and Lo and Behold. If you have not seen one of Werner's films, they might be described as intense, extreme, maybe even dark. But they are also very insightful, and this depth can be credited to the way that he interacts with the people he is interviewing. He chooses his subjects carefully, often times based on whether or not he thinks that they can handle his line of inquiry.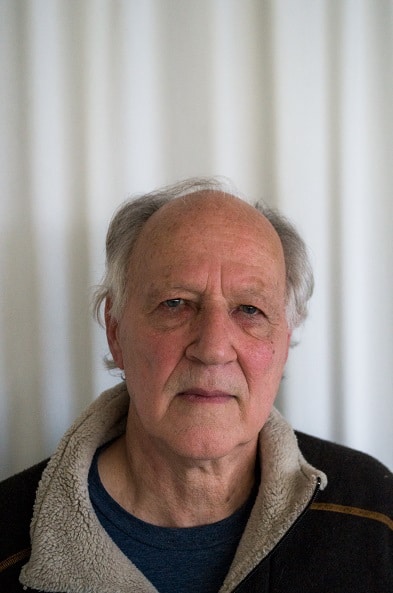 Photo: Jesse Thorn
Werner's career spans more than 50 years, and he has released work almost every year since he began. He was nominated for an Academy Award for his 2009 documentary Encounters at the End of the World, and has been nominated for and won many other awards during his long career. He is one of the most celebrated figures in documentary film making, for both the final product and the processes by which he makes them.
Jesse and Werner talk about how he gets people to talk to him, and why he asks questions that he knows he won't get the answer to. They talk about his 1996 film, Little Dieter Needs to Fly, and why he thinks his dramatizations of his subject's lived experience aren't manipulation, but actually the way to get to the truth of the matter. They also talk about the interviews that take place on, and off camera, and why the latter often involves deeper and more meaningful conversation.
You can watch Werner's Emmy nominated film Into the Inferno on Netflix now.
Jesse will be hosting an AMA on Reddit this Friday August 11th at 12 noon PST to talk about what he's learned from this project. Go to iama.reddit.com/ to join in the conversation and ask Jesse anything you'd like.
The Turnaround is a production of Maximum Fun in partnership with the Columbia Journalism Review. Visit their website to learn more about their "mission to encourage excellence in journalism in the service of a free society," and to read edited transcripts of our other Turnaround episodes.
Hosted and created by Jesse Thorn
Produced by Kara Hart and Nick Liao
Senior Producer: Laura Swisher
Managing Director: Bikram Chatterji
Music for The Turnaround provided by Mobius Van ChocStraw.
Special thanks to Kyle Pope and his team at CJR, Darrel Frost, and Emilie Erskine.
About the show
The Turnaround is a show about our greatest living interviewers, hosted by Jesse Thorn and produced by Maximum Fun and Columbia Journalism Review. Featuring conversations with prominent interviewers about their careers and their craft, the show is a perfect resource for a new generation of storytellers and journalists. You'll hear Jesse speak with Larry King, Terry Gross, Werner Herzog, Audie Cornish, and so many more!
How to listen
Stream or download episodes directly from our website, or listen via your favorite podcatcher!