Episode notes
New to The Turnaround? Subscribe in Apple Podcasts or with your favorite podcatcher to make sure you automatically get two new interviews a week through August 11. Also, Jesse will be hosting a Reddit AMA talking about what he's learned from creating The Turnaround on Friday, August 11 at noon PST.
Ray Suarez is a broadcast journalist and news anchor who has done just about everything under the wider "journalism" umbrella. He began his career working for WMAQ in Chicago, covering local and national news. He was a senior correspondent for PBS NewsHour, hosted NPR's Talk of the Nation for almost seven years, and most recently, he hosted a show on Al Jazeera America called Inside Story. He is a published author, and is currently a visiting professor at Amherst College in Massachusetts.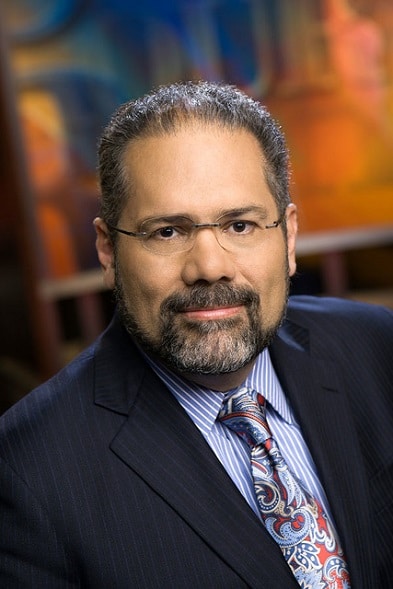 Photo: Courtesy of Ray Suarez
Ray is the kind of journalist that you would want to talk to as a private citizen. He's kind, morally adept, and does not try to take advantage in any way. He's still a super fair guy when he's interviewing public figures, but he tries to get them off script — which he's become really good at in his more than three decades-long career.
Ray tells Jesse about his childhood ambition to be a professional journalist. They talk about his time reporting local news, and what he learned about talking to private versus public people. They also talk about the moral choices that comes with interviewing non-professionals. We also find out what it's like to interview politicians, and how to get the better, less rehearsed interview.
Ray has written three books, the most recent of which is called Latino Americans: The 500 Year Legacy that Shaped a Nation. You can also hear Ray interviewing Desus Nice, the Kid Mero, and Walter Murch on Bullseye with Jesse Thorn this past February here.
The Turnaround is a production of Maximum Fun in partnership with the Columbia Journalism Review. Visit their website to learn more about their "mission to encourage excellence in journalism in the service of a free society," and to read edited transcripts of our other Turnaround episodes.
Hosted and created by Jesse Thorn
Produced by Kara Hart and Nick Liao
Senior Producer: Laura Swisher
Managing Director: Bikram Chatterji
Music for The Turnaround provided by Mobius Van ChocStraw.
Special thanks to Kyle Pope and his team at CJR, Darrel Frost, and Emilie Erskine.
About the show
The Turnaround is a show about our greatest living interviewers, hosted by Jesse Thorn and produced by Maximum Fun and Columbia Journalism Review. Featuring conversations with prominent interviewers about their careers and their craft, the show is a perfect resource for a new generation of storytellers and journalists. You'll hear Jesse speak with Larry King, Terry Gross, Werner Herzog, Audie Cornish, and so many more!
How to listen
Stream or download episodes directly from our website, or listen via your favorite podcatcher!