Episode notes
New to The Turnaround? Subscribe in Apple Podcasts or with your favorite podcatcher to make sure you automatically get two new interviews a week through August 15th.
This week on The Turnaround Jesse sits down with Brooke Gladstone of WNYC Studio's On The Media.
Brooke began her career working for NPR, as an editor on both Weekend Edition with Scott Simon, and All Things Considered. She also worked as a foreign correspondent for NPR in Moscow. Now she co-hosts and edits the weekly show On The Media. The award winning show has been around in its current iterations for over 15 years covering, you guessed it, the media. She and co-host Bob Garfield cast a critical eye on their peers in the media, asking questions that are larger than that week's headlines.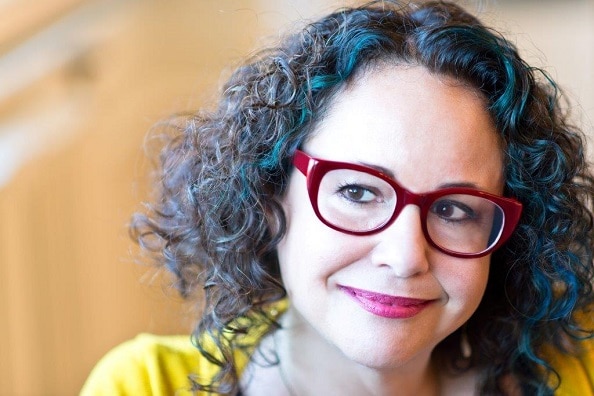 Photo: Janice Yi
Brooke interviews all kinds of people on the show. She and Bob make an effort to represent many points of view on any given topic, to give the listener a better understanding of all the issues involved. Her interview style is direct and respectful, though you never feel like she hasn't asked the question that you want answered.
In her conversation with Jesse, Brooke shares how such a tightly edited weekly show gets made, and how she and her team choose to edit their show when cutting down for time and content. She also talks about journalistic objectivity, an ideal that she believes has no business dictating any part of the relationship between the media consumer and producer.
Brooke has won two Peabody awards among many others, and she has written two books. One of them is a non-fiction graphic novel starring Brooke herself that covers changes in the media over the last 2,000 years. It came out in 2011 and is called The Influencing Machine.
Her most recent book, The Trouble With Reality: A Rumination on Moral Panic in Our Time came out earlier this year. It deals with the proliferation of "fake news" in our time, examining how the Trump administration uses these lies to shape reality. You can listen to On The Media every week on your local public radio station, or you can download the podcast. If you're not already subscribed, do it! Seriously.
The Turnaround is a production of Maximum Fun in partnership with the Columbia Journalism Review. Visit their website to learn more about their "mission to encourage excellence in journalism in the service of a free society," and to read edited transcripts of our other Turnaround episodes.
Hosted and created by Jesse Thorn
Produced by Kara Hart and Nick Liao
Senior Producer: Laura Swisher
Managing Director: Bikram Chatterji
Music for The Turnaround provided by Mobius Van ChocStraw.
Special thanks to Kyle Pope and his team at CJR, Darrel Frost, and Emilie Erskine.
About the show
The Turnaround is a show about our greatest living interviewers, hosted by Jesse Thorn and produced by Maximum Fun and Columbia Journalism Review. Featuring conversations with prominent interviewers about their careers and their craft, the show is a perfect resource for a new generation of storytellers and journalists. You'll hear Jesse speak with Larry King, Terry Gross, Werner Herzog, Audie Cornish, and so many more!
How to listen
Stream or download episodes directly from our website, or listen via your favorite podcatcher!