Episode notes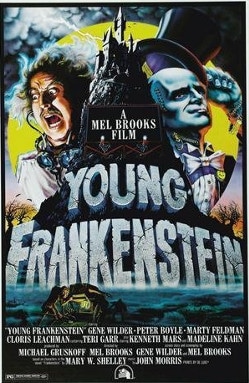 Young Frankenstein
This week we are elated to have the director of the new film The Miseducation of Cameron Post, Desiree Akhavan. The film stars Chloë Grace Moretz as a young gay teenager in the early '90's forced to attend a conversion therapy camp. Desiree's choice of film to discuss this week is Mel Brooks' Young Frankenstein. Desiree shares her special connection to the film and how it reminds her of her father. She is also critical of the movie, in particular the scene where Frankenstein's monster "ravages" Madeline Kahn. April and her explore how certain jokes have not aged well. Desiree discusses directing her current film; working with Chloë Grace Moretz, not making Christianity the butt of a joke, and trying to make her version of a "John Hughes film." She also bemoans the fact that American studios are totally unwilling to take any creative risks and how she had to move to London to get her TV show made.
You can see The Miseducation of Cameron Post in theaters now.
And if you haven't seen it yet, go watch on Young Frankenstein
With April Wolfe with Desiree Akhavan
You can let us know what you think of Switchblade Sisters at @SwitchbladePod on Twitter. Or email us at switchbladesisters@maximumfun.org
Produced by Casey O'Brien and Laura Swisher for MaximumFun.org.
In this episode...
Guests
April Wolfe
Desiree Akhavan
About the show
Switchblade Sisters is a podcast providing deep cuts on genre flicks from a female perspective. Every week, screenwriter and former film critic April Wolfe sits down with a phenomenal female film-maker to slice-and-dice a classic genre movie – horror, exploitation, sci-fi and many others! Along the way, they cover craft, the state of the industry, how films get made, and more. Mothers, lock up your sons, the Switchblade Sisters are coming!
Follow @SwitchbladePod on Twitter and join the Switchblade Sisters Facebook group. Email them at switchbladesisters@maximumfun.org.
How to listen
Stream or download episodes directly from our website, or listen via your favorite podcatcher!