Episode notes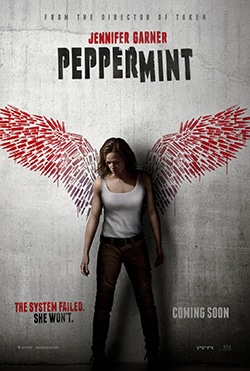 Peppermint
You heard right, the band is back together! This episode marks the return of our Switchblade Sister April Wolfe. And this week the crew is talking about the divisive (and pretty racist) new Jennifer Garner film
Peppermint
. Ricky discusses his feelings on
Twin Peaks: The Return
. April celebrates the the life of her beloved cat. And Alonso questions whether fall is arriving or not. Plus, the gang listens to messages from the "Who Shot-Line." This week's questions was, "Which actress, who has never fronted an action film, deserves to be an action hero?" And as always, 'Staff Picks.'
In news, Candyman is coming, Olivia Munn is chastised, and Facebook apologoizes for taking down those nude Burt Reynolds photos.
Weekly Movie Recommendations:
Ricky – Old Boy
Alonso – Starting Over
April – Let the Corpses Tan
PLUS, we have two Spotify playlists. One is for Movie Soundtracks and the other is for Movie Scores. Check 'em out!
Next week we're discussing The Predator.
With April Wolfe, Alonso Duralde, and Ricky Carmona.
You can let us know what you think of Who Shot Ya? at @WhoShotYaPod on Twitter. Or email us at whoshotya@maximumfun.org
Produced by Casey O'Brien and Laura Swisher for MaximumFun.org.
Guests
Ricky Carmona
Alonso Duralde
April Wolfe
About the show
A movie podcast that isn't just a bunch of straight white dudes. Comedian Ify Nwadiwe is joined by film producer Drea Clark and film critic Alonso Duralde for a fast, funny, flight through film. Maximum Film! is news, reviews and in-depth insight, beamed directly into your ears every week.
Email maximumfilm@maximumfun.org and follow the show on Twitter @maximum_film.
How to listen
Stream or download episodes directly from our website, or listen via your favorite podcatcher!