Episode notes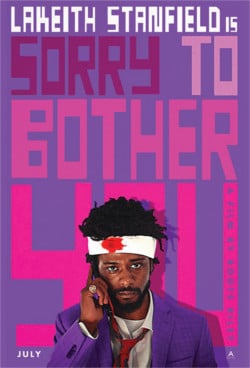 Sorry to Bother You
We're going guest-less this episode as the 'Who Shot Ya?' trio hold down the fort on their own. This week we're covering the movie of the summer,
Sorry to Bother You
. In the discussion of the film the crew covers the rise of Oakland in cinema, Boots Riley's unique vision, and the powerful political message of the film. Alonso makes a case for a double feature with
Sorry to Bother You
and
The First Purge
. Plus, the crew puts together the ultimate Top Five list of directorial debuts. And as always, staff picks.
In news, Thanos apparently killed half of the animals, the cast and crew walk off the 'Roe v. Wade' film, and James Gunn says a good movie can't be ruined by spoilers.
TOP FIVE DIRECTORIAL DEBUTS (In no particular order):
1). Orson Welles – Citizen Kane
2). Kasi Lemmons – Eve's Bayou
3). Spike Lee – She's Gotta Have It
4). Joan Micklin Silver – Hester Street
5). Rose Troche – Go Fish
Weekly Movie Recommendations:
Ricky – Nights of Cabiria
April – Eighth Grade
Alonso – Hotel Transylvania 3: Summer Vacation
PLUS, we have two Spotify playlists. One is for Movie Soundtracks and the other is for Movie Scores. Check 'em out!
Next week we're discussing Skyscraper with Morgan Rhodes and Drea Clark
With Alonso Duralde, April Wolfe, and Ricky Carmona.
You can let us know what you think of Who Shot Ya? at @WhoShotYaPod on Twitter. Or email us at whoshotya@maximumfun.org
Produced by Casey O'Brien and Laura Swisher for MaximumFun.org.
Guests
Ricky Carmona
Alonso Durald
April Wolfe
About the show
A movie podcast that isn't just a bunch of straight white dudes. Comedian Ify Nwadiwe is joined by film producer Drea Clark and film critic Alonso Duralde for a fast, funny, flight through film. Maximum Film! is news, reviews and in-depth insight, beamed directly into your ears every week.
Email maximumfilm@maximumfun.org and follow the show on Twitter @maximum_film.
Get in touch with the show
How to listen
Stream or download episodes directly from our website, or listen via your favorite podcatcher!