Episode notes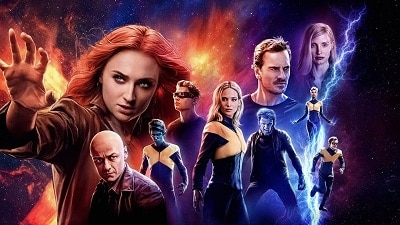 Dark Phoenix
This week, Alonso is asked to give the briefest synopsis of a movie yet. Can he sum up the plot of DARK PHOENIX in just one sentence? Listen to find out. In the host's seat we've got comedian Kimberly Clark, and Rachel Wenitsky, head writer of the
Story Pirates podcast
, flew in from New York on the Maximum Fun private jet just to record this week's show.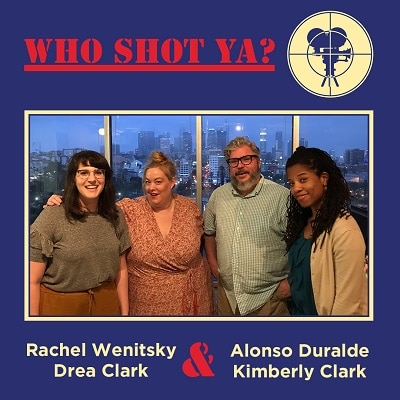 Rachel Wenitsky, Drea Clark, Alonso Duralde and Kimberly Clark
There's a heated discussion over which fizzy water beverages are best, and the panelists are granted the power to kill their most-detested movie franchises. For one panelist, the force is
not
with her.
ITIDIC
In news, Michael Douglas believes Steven Spielberg cost him a best actor award at Cannes.
A new USC Annenberg study reveals women directed just 3% of animated movies.
Canadian chanteuse Justin Bieber challenged Tom Cruise to a fight in the octagon, and then took it back.
Staff Picks
Drea – Deep Murder
Alonso – Stop the Church
Kimberly – I Called Him Morgan
Rachel – Annihilation
You can let us know what you think of Who Shot Ya? on Twitter or Facebook. Or email us at whoshotya@maximumfun.org
Call us on the "Who Shotline" – WSY-803-1664
Produced by Casey O'Brien and Laura Swisher for MaximumFun.org.
Guests
Rachel Wenitsky
Kimberly Clark
About the show
A movie podcast that isn't just a bunch of straight white dudes. Comedian Ify Nwadiwe is joined by film producer Drea Clark and film critic Alonso Duralde for a fast, funny, flight through film. Maximum Film! is news, reviews and in-depth insight, beamed directly into your ears every week.
Email maximumfilm@maximumfun.org and follow the show on Twitter @maximum_film.
Get in touch with the show
How to listen
Stream or download episodes directly from our website, or listen via your favorite podcatcher!