Episode notes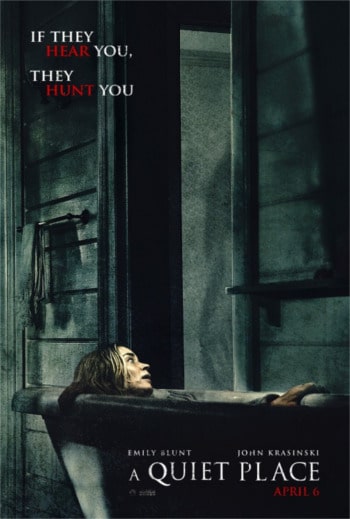 A Quiet Place
The return of Inkoo Kang! She joins the crew to discuss
A Quiet Place
. On this episode, April describes her irritation with the term 'Elevated Horror' and how it is an attempt to distance certain films from the genre itself. Inkoo discusses her physical reaction to the jump scares in scary movies. Ricky regails the gang with a tale of getting kicked out of the theater. April tells a story about sitting next to a breastfeeding mother while watching
A Quiet Place
. And Alonso hammers home the necessity for keeping your phone off in the movie theater. Plus, this is the last week of the MaxFunDrive, so the Who Shot Ya? friends detail the importance of donating.
maximumfun.org/donate
.
In news, Molly Ringwald has some issues with The Breakfast Club, Zoe Saldana is tired of 'elitists' putting down the Marvel movies, and Margaret Atwood says the 9/11 terrorists were inspired by Star Wars.
Weekly Movie Recommendations:
Ricky – The Zen Diaries of Garry Shandling
Alonso – Lean on Pete
April – Sweet Country
Inkoo Kang – The Rider
PLUS, we have two Spotify playlists. One is for Movie Soundtracks and the other is for Movie Scores. Check 'em out!
Next week we're discussing Rampage with Danielle Radford.
With Inkoo Kang, <ahref="https://maximumfun.org/alonsoduralde">Alonso Duralde, April Wolfe, and Ricky Carmona.</ahref="https://maximumfun.org/alonsoduralde">
You can let us know what you think of Who Shot Ya? at @WhoShotYaPod on Twitter. Or email us at whoshotya@maximumfun.org
Produced by Casey O'Brien and Laura Swisher for MaximumFun.org.
Guests
Ricky Carmona
Alonso Duralde
April Wolfe
Inkoo Kang
About the show
A movie podcast that isn't just a bunch of straight white dudes. Comedian Ify Nwadiwe is joined by film producer Drea Clark and film critic Alonso Duralde for a fast, funny, flight through film. Maximum Film! is news, reviews and in-depth insight, beamed directly into your ears every week.
Email maximumfilm@maximumfun.org and follow the show on Twitter @maximum_film.
Get in touch with the show
How to listen
Stream or download episodes directly from our website, or listen via your favorite podcatcher!