Episode notes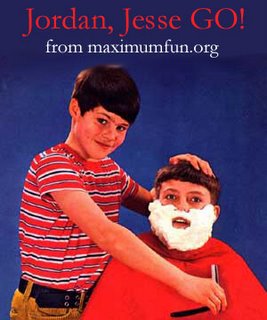 In this week's Jordan Jesse GO!, we're joined by comedian Jen Kirman. We discuss the crazy, meth-addicted homeless people who live outside her window. We also play Would You Rather with listener Carol and Jim Real, the Master of Would You Rather.
Jen Kirkman's new album just came out via our friends at AST records. You can buy it for only $10 here. Here's a sample: "Cockroaches"
Introduction
Jesse and Jordan are on the scene of a house fire. We have a very, very important question: who is better… Chiwetel Eijofor or Djimoun Honsou?
Jen Kirkman discusses with us the crazy homeless people who live outside of her apartment. They have a tent, a welcome mat, and Christmas lights. Also, they sell drugs to teenagers.
Would You Rather
Jim Real, The Master of Would You Rather and listener Carol from Connecticut play Would You Rather with us. Jim's question: would you rather have sandpaper hands, or be forced to eat only food that you have hunted or gathered?
Outro
* Review the show on iTunes.
* Do you have a dispute Judge John Hodgman can solve on a future broadcast? Email it to us! Put Judge John in the subject line.
* Have personal questions for Jesse and Jordan? Call 206-984-4FUN and tell us what they are!
* Would you like to play Would You Rather with us on a future episode? Email us or give us a call at 206-984-4FUN.

Call 206-984-4FUN to share your thoughts on these ACTION ITEMS.
Subscribe in iTunes
Podcast Feed
Discuss the show on the forum
Download Episode Twelve
Hear Episode Twelve
Our theme music: "Love You" by The Free Design, courtesy of The Free Design and Light in the Attic Records
About the show
What is the dumbest show you can imagine? This award-winning show may be dumber. It has no content. No format. Yet it's going on thirteen years of delighting hundreds of thousands of people. It's been an iTunes editor's choice, and Rolling Stone picked it as one of the world's best comedy podcasts. It's light in the dark, comfort in the cold, and a penguin in the pants (long story).
Join hosts Jesse Thorn (NPR's Bullseye) and Jordan Morris (Comedy Central's @Midnight) and a celebrity guest on a raucous, vulgar, and warm-hearted romp that might just leave you a better person. And will certainly make you dumber.
Call in a Momentous Occasion at 206-984-4FUN or email jjgo@maximumfun.org.
Get in touch with the show
How to listen
Stream or download episodes directly from our website, or listen via your favorite podcatcher!