Episode notes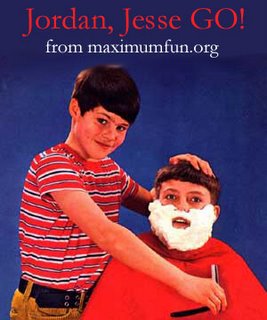 In this week's Jordan Jesse GO!, we're joined by rock & roll superstar Andrew W.K.
Introduction
Jesse and Jordan celebrate the Fourth of July with fireworks. Also, we discuss a video game that Jordan beat, and the fact that Jesse has never beaten a video game.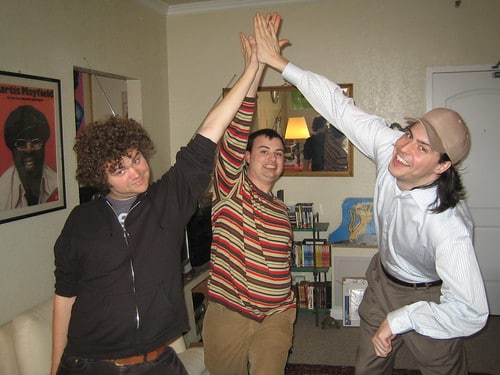 We are joined by our favorite rock star, Andrew WK. Jesse discusses the bizarre and astonishingly sincere rivalry between USC and UCLA, and a near-fight he witnessed at an ice cream sandwich store.
Andrew WK: MySpace
Andrew W.K. discusses the fact that he manages his own MySpace, and why. Also — what it's like to hear from someone buried deep in your past. Andrew got a message from the only girl he's ever been mean to.
Andrew WK: Songwriting
Andrew talks about visiting a songwriting retreat sponsored by the members of Hansen. Really!
Andrew WK: The Ranking
We bring back an old favorite segment: the ranking! Andrew ranks:
Bladerunner
Natural Peanut Butter
Sam Elliott
Cartoon Movie Posters
Slow Jams
Outro
ACTION ITEMS
* Enter the HIGH FIVE CONTEST
on FLICKR
!
* Should Jordan buy a Nintendo DS or a Game Boy Micro? And should he play X-Box online?
* What defines "being a grown-up" for you?

* Review the show on iTunes.
* Do you have a dispute Judge John Hodgman can solve on a future broadcast? Email it to us! Put Judge John in the subject line.
* Have personal questions for Jesse and Jordan? Call 206-984-4FUN and tell us what they are!
* Would you like to play Would You Rather with us on a future episode? Email us or give us a call at 206-984-4FUN.

Call 206-984-4FUN to share your thoughts on these ACTION ITEMS.
Subscribe in iTunes
Podcast Feed
Discuss the show on the forum
Download Episode Thirteen
Hear Episode Thirteen
Our theme music: "Love You" by The Free Design, courtesy of The Free Design and Light in the Attic Records
About the show
What is the dumbest show you can imagine? This award-winning show may be dumber. It has no content. No format. Yet it's going on thirteen years of delighting hundreds of thousands of people. It's been an iTunes editor's choice, and Rolling Stone picked it as one of the world's best comedy podcasts. It's light in the dark, comfort in the cold, and a penguin in the pants (long story).
Join hosts Jesse Thorn (NPR's Bullseye) and Jordan Morris (Comedy Central's @Midnight) and a celebrity guest on a raucous, vulgar, and warm-hearted romp that might just leave you a better person. And will certainly make you dumber.
Call in a Momentous Occasion at 206-984-4FUN or email jjgo@maximumfun.org.
Get in touch with the show
How to listen
Stream or download episodes directly from our website, or listen via your favorite podcatcher!