Episode notes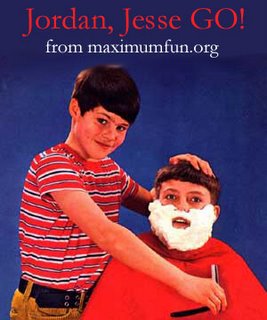 This week's show features very special guest Ashkon, who's song "Hot Tubbin'" has been tearing up the Max Fun charts since its debut a few weeks ago.
Introduction
Jesse and Jordan are in a Dinosaur Park. They say dinosaur names they know, and give you a preview of the show to come.
Happy pet stories (aka the Cat Came Back), First Time Drunk, Waiting on the Tow Truck, Crying at the Cracker Barrel… no, it's not Jordan's new country album, it's listener calls!
Calls from Listeners
Jordan receives some shoe advice and gets propositioned. He'll also be put on the internet in his underwear, for you to dress up.
People Who Listen to the Show Dial a Number and Leave a Message and Jordan and Jesse Talk About It
Longtime pal Brian shares a cautionary tail about knives, Jesse is corrected, and the definitive White-Guy-Know-It-All theory is offered.

Zoo Animal Showdown!
Monkey vs. Lion

Jesse introduces a new segment called Zoo Animal Showdown. This week's match up: Monkey Vs. Lion. Head to the
forum
to cast your vote!
Ashkon
Jordan and Jesse chat with Ashkon about wild nights in LA, his connection with Murder Inc.'s Irv Gotti, and, of course, hot tubbin' on the late night.
Yadadamean
?
Ashkon Performs

Ashkon performs an acoustic version of "Hot Tubbin'" and an awesome freestyle rap.
Outro:
Lots of action items this week!

*Vote in the first round of the Zoo Animal Showdown! Visit the forum for details.
*Have you ever done something stupid? Think you can beat Brian's stabbing the crap out of his hands? Call in and tell us about it!
*Coming Soon: Dress up Paper Doll Jordan on our flickr page!
*Check out Ashkon at www.gradschoolmusic.com

* Do you have a dispute Judge John Hodgman can solve on a future broadcast? Email it to us! Put Judge John in the subject line.
* Have personal questions for Jesse and Jordan? Call 206-984-4FUN and tell us what they are!
* Would you like to play Would You Rather with us on a future episode? Email us or give us a call at 206-984-4FUN.
Call 206-984-4FUN to share your thoughts on these ACTION ITEMS.
Hear This Episode Now
Our theme music: "Love You" by The Free Design, courtesy of The Free Design and Light in the Attic Records
About the show
What is the dumbest show you can imagine? This award-winning show may be dumber. It has no content. No format. Yet it's going on thirteen years of delighting hundreds of thousands of people. It's been an iTunes editor's choice, and Rolling Stone picked it as one of the world's best comedy podcasts. It's light in the dark, comfort in the cold, and a penguin in the pants (long story).
Join hosts Jesse Thorn (NPR's Bullseye) and Jordan Morris (Comedy Central's @Midnight) and a celebrity guest on a raucous, vulgar, and warm-hearted romp that might just leave you a better person. And will certainly make you dumber.
Call in a Momentous Occasion at 206-984-4FUN or email jjgo@maximumfun.org.
How to listen
Stream or download episodes directly from our website, or listen via your favorite podcatcher!