Episode notes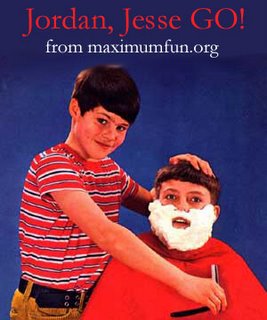 In this week's Jordan Jesse GO!, we do we what we usually do: Talk about things Jordan's doing wrong in life.
Introduction
Jesse and Jordan are in the middle of a Wild West shootout. They talk a lot about Mortal Kombat, and a little bit about Jordan playing videogames in the nude.
40 year-olds dressing like 16 year-olds, estate sales put on by the living, and "dilfs" – Could LA be the worst place in the world? Also, Jesse gives Jordan some fashion advice.
Music
We take a look at Jordan's iPod, and discuss "Dude-know-it-alls".
Plugs
Help bring the Sound of Young America to your local public radio station.

Listener Calls
Lots of listener calls this week: Thanks JJ Go!, Jesse gets lied to, Army of Darkness doesn't suck, a sad call, and peeing in Staples vs. graduating high school.
Outro
It's a doozy.
*Let's say Jordan ever wanted to wear a pair of shoes…which should he wear?
*Give us your thoughts on the topic of "dude-know-it-alls".

* Do you have a dispute Judge John Hodgman can solve on a future broadcast? Email it to us! Put Judge John in the subject line.
* Have personal questions for Jesse and Jordan? Call 206-984-4FUN and tell us what they are!
* Would you like to play Would You Rather with us on a future episode? Email us or give us a call at 206-984-4FUN.
Call 206-984-4FUN to share your thoughts on these ACTION ITEMS.
Hear This Episode Now
Our theme music: "Love You" by The Free Design, courtesy of The Free Design and Light in the Attic Records
About the show
What is the dumbest show you can imagine? This award-winning show may be dumber. It has no content. No format. Yet it's going on thirteen years of delighting hundreds of thousands of people. It's been an iTunes editor's choice, and Rolling Stone picked it as one of the world's best comedy podcasts. It's light in the dark, comfort in the cold, and a penguin in the pants (long story).
Join hosts Jesse Thorn (NPR's Bullseye) and Jordan Morris (Comedy Central's @Midnight) and a celebrity guest on a raucous, vulgar, and warm-hearted romp that might just leave you a better person. And will certainly make you dumber.
Call in a Momentous Occasion at 206-984-4FUN or email jjgo@maximumfun.org.
How to listen
Stream or download episodes directly from our website, or listen via your favorite podcatcher!