Episode notes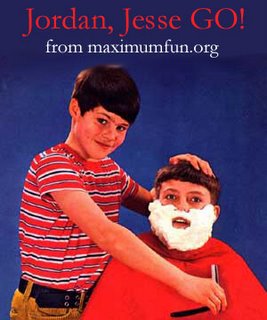 As the podcast turns…following a call to The Best Show on WFMU, Jesse is forced to make a heartbreaking decision.
Introduction
Jesse and Jordan are hanging out in the local billiard parlor.
Jordan gives a "thumbs up" to
Live Free or Die Hard
, etc.
Listener Calls
This starts out with a discussion of casual racism in LA, but works its way into some miscellaneous calls.
Project Breakout
There's a new comedy competition at projectbreakout.com: Sketch Comedy VS. Stand-Up. Visit the site for details on how to enter!

Miserly Jordan
That miserly Jordan takes a step toward being less miserly when he buys 10 dollar ice cube trays.

Zoo Animal Showdown!
Monkey vs. Lion

Listeners call in with their thoughts on, and we find out the winner of, Monkey Vs. Lion!
Next Match-up:
Elephant Vs. Sloth
Stupid Listeners, Funny Calls!

We had quite a few responses to last week's stupid challenge, but one takes the cake. We'll give you a hint: It involves peeing all over the floor.
Hang It Up, Keep It Up
Let Jesse Thorn be your moral compass with the long awaited return of HIU-KIU.
*Vote in the second round of the Zoo Animal Showdown! Visit the forum for details.
*Have you ever done something stupid? Think you can beat today's calls? Call in and tell us about it.
* Review the show on iTunes.
* Do you have a dispute Judge John Hodgman can solve on a future broadcast? Email it to us! Put Judge John in the subject line.
* Have personal questions for Jesse and Jordan? Call 206-984-4FUN and tell us what they are!
* Would you like to play Would You Rather with us on a future episode? Email us or give us a call at 206-984-4FUN.

Call 206-984-4FUN to share your thoughts on these ACTION ITEMS.
Subscribe in iTunes
Podcast Feed
Discuss the show on the forum
Download This Episode
Hear This Episode Now
Our theme music: "Love You" by The Free Design, courtesy of The Free Design and Light in the Attic Records
About the show
What is the dumbest show you can imagine? This award-winning show may be dumber. It has no content. No format. Yet it's going on thirteen years of delighting hundreds of thousands of people. It's been an iTunes editor's choice, and Rolling Stone picked it as one of the world's best comedy podcasts. It's light in the dark, comfort in the cold, and a penguin in the pants (long story).
Join hosts Jesse Thorn (NPR's Bullseye) and Jordan Morris (Comedy Central's @Midnight) and a celebrity guest on a raucous, vulgar, and warm-hearted romp that might just leave you a better person. And will certainly make you dumber.
Call in a Momentous Occasion at 206-984-4FUN or email jjgo@maximumfun.org.
How to listen
Stream or download episodes directly from our website, or listen via your favorite podcatcher!