Episode notes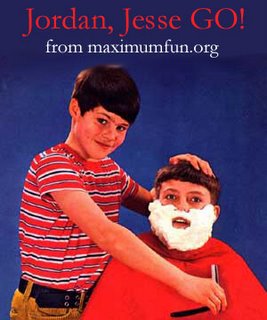 On this week's Jordan Jesse GO!, we bring you down for an inordinate amount of time.
Introduction
Jesse and Jordan eat Tofu Cuties while recording the introduction to a radio show.
Eyebrows
Jesse finds out why he wasn't invited to the LA NPR Party, and Jordan sacrifices his dignity (and Jesse's respect) for female intimacy.
DVD Extras
Jordan confesses his love of watching DVD extras, despite their dubious quality.
Rap Concerts
A caller's first rap concert experience, and Jesse divulges a little known fact about 38-year old black women.
Laundry
In an effort to squelch his rampant miserliness and squalor, Jordan dabbles in decadence with Fluff n' Fold.
Woofie
Jesse discusses his dying dog for 18 minutes on a comedy podcast, thereby ruining the show and your week.
Norse Folk Songs
Will Jordan's skilled singing of Norse folk songs break up JJ GO for good?
Outro
Jesse and Jordan sign off without adding much of anything.

ACTION ITEMS
* If you're aware of any worthwhile DVD Extras, call in and let us know!
* Review the show on iTunes.
* Do you have a dispute Judge John Hodgman can solve on a future broadcast? Email it to us! Put Judge John in the subject line.
* Have personal questions for Jesse and Jordan? Call 206-984-4FUN and tell us what they are!
* Would you like to play Would You Rather with us on a future episode? Email us or give us a call at 206-984-4FUN.

Call 206-984-4FUN to share your thoughts on these ACTION ITEMS.
Our theme music: "Love You" by The Free Design, courtesy of The Free Design and Light in the Attic Records
About the show
What is the dumbest show you can imagine? This award-winning show may be dumber. It has no content. No format. Yet it's going on thirteen years of delighting hundreds of thousands of people. It's been an iTunes editor's choice, and Rolling Stone picked it as one of the world's best comedy podcasts. It's light in the dark, comfort in the cold, and a penguin in the pants (long story).
Join hosts Jesse Thorn (NPR's Bullseye) and Jordan Morris (Comedy Central's @Midnight) and a celebrity guest on a raucous, vulgar, and warm-hearted romp that might just leave you a better person. And will certainly make you dumber.
Call in a Momentous Occasion at 206-984-4FUN or email jjgo@maximumfun.org.
How to listen
Stream or download episodes directly from our website, or listen via your favorite podcatcher!