Episode notes
Tune up your guitar and try to write one great song… It's a new Go Fact Yourself!
Jade Catta-Preta is best known as the host of "The Soup" on the E! Network. How did she develop into such a strong lead for the show? Well it turns out that she learned english by watching talk show hosts when she was growing up. She'll tell us more about her time on TV and explain how she's still making comedy in 2020. You can get tickets now to Jade's next stand-up show in October.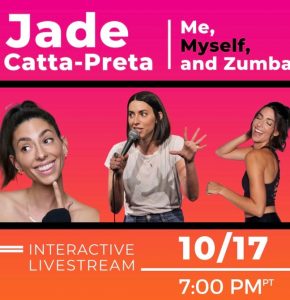 Jade's fellow contestant is musician Dave Hill. If you think you haven't heard of his work, you may recognize one of his tracks as the theme song to HBO's "Last Week Tonight with John Oliver." He'll tell us about how he landed that gig… by exerting as little effort as possible. You can hear Dave on "Dave Hill's Podcasting Incident" right here on the Maximum Fun Network.
Our guests will answer trivia about hit musicals, hit music and animals taking hits of sedatives.
What's the difference: Calm Down!
What's the difference between a domesticated animal and a tame animal?
What's the difference between a sedative and tranquilizer?
Areas of Expertise
Dave Hill: The rules of ice hockey, electric guitars and dog breeds.
Jade Catta-Preta: Miley Cyrus, the musical RENT and laser hair removal
Appearing in this episode:
With guest experts:
Tim Parnin, musician, guitar shop owner and vice president of technology for the Rock & Roll Hall of Fame.
Wilson Jermaine Heredia, Tony-winning actor from the musical RENT
Go Fact Yourself was devised by Jim Newman and J. Keith van Straaten, and produced in collaboration with Maximum Fun. The show is recorded from multiple homes at a safe social distance.
Theme Song by Jonathan Green
Maximum Fun's Senior Producer is Laura Swisher
The show is edited by Julian Burrell.
Mask-wearing by YOU.
Guests
Jade Cata-Preta
Dave Hill
Tim Parnin
Wilson Jermaine Heredia
About the show
Twice a month, host J. Keith van Straaten and co-host Helen Hong quiz the smartest celebrities they know to find out why they love what they love! Recorded before a live audience in downtown Los Angeles, this game show features comedians, actors, and musicians answering arcane questions on topics they claim to be experts in. But don't worry; if they slip up, there are real experts on hand to give us the facts!
If you're in the Los Angeles area and would like to be in the audience for a podcast taping, get your free ticket at http://www.gofactyourpod.com!
Get in touch with the show
How to listen
Stream or download episodes directly from our website, or listen via your favorite podcatcher!
Liked Ep. 64: Jade Catta-Preta & Dave Hill? Listen to these next...