Episode notes
Grab your favorite science-fiction novel and settle into your 1400's English outfit for this episode of Go Fact Yourself!
Sara Schaefer is an accomplished comedian and writer. She won an Emmy for her time as a blogger on "Late Night with Jimmy Fallon." And yes, you can win an Emmy for blogging! But that was not her first Emmy nomination, that came during her time as a writer for a show that might help her out today: "Who Wants to be a Millionaire?" Sara's new comedy album "LIVE LAUGH LOVE" is available now.
Sara's opponent is Kurt Braunohler! He's the host of the Los Angeles comedy show "Hot Tub with Kurt and Kristen". These days, he's got a pretty great professional life, but that wasn't always the case. He'll recount some of the roughest parts of his career, including when he performed an hour of stand-up to an audience of three people. You can see Kurt in the Showtime series "Black Monday"
As our guest's trivia prowess is pushed the limit, we'll learn more about the postal service, barnyard animals and the two Coreys.
What's the difference: Mail/Male
What's the difference between certified mail and registered mail?
What's the difference between a bull and an ox?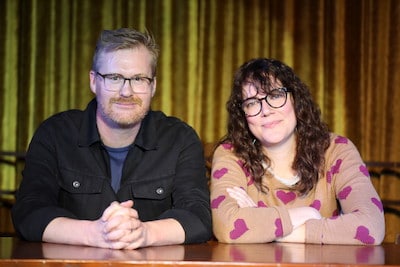 Kurt Braunohler and Sara Schaefer
Areas of Expertise
Sara Schaefer: Joni Mitchell, crafting and Tudor England
Kurt Braunohler: Science-Fiction literature, the philosopher Friedrich Nietzsche and movies that feature both Coreys Haim and Feldman.
Appearing in this episode:
J. Keith van Straaten
Helen Hong
Sara Schaefer
Kurt Braunohler
With guest experts:
Dr. Muriel C. McClendon, UCLA professor whose area of research is Tudor England.
Larry Niven, author of numerous science-fiction books, including the Ringworld series.
This episode is sponsored by CA Trusts.
Go Fact Yourself was devised by Jim Newman and J. Keith van Straaten, and produced in collaboration with Maximum Fun. The show was recorded at The Angel City Brewery in Los Angeles.
Theme Song by Jonathan Green.
Maximum Fun's Senior Producer is Laura Swisher.
The show is edited by Julian Burrell.
Guests
Sara Schaefer & Kurt Braunohler
Dr. Muriel C. McClendon & Larry Niven
About the show
Twice a month, host J. Keith van Straaten and co-host Helen Hong quiz the smartest celebrities they know to find out why they love what they love! Recorded before a live audience in downtown Los Angeles, this game show features comedians, actors, and musicians answering arcane questions on topics they claim to be experts in. But don't worry; if they slip up, there are real experts on hand to give us the facts!
If you're in the Los Angeles area and would like to be in the audience for a podcast taping, get your free ticket at http://www.gofactyourpod.com!
Get in touch with the show
How to listen
Stream or download episodes directly from our website, or listen via your favorite podcatcher!