Episode notes
** Come see us record LIVE in Los Angeles on Sunday, November 6! **
Avengers, Assemble – at the Center for Inquiry for a brand new episode of Go Fact Yourself!
Rob Corddry is perhaps best known for "Childrens Hospital," the comedy show that he created and starred in. It was so well-received, it earned him four Emmy awards. But his first Emmy award actually came years earlier as part of "The Daily Show with Jon Stewart"… sort of. He'll tell us about that and explain the skills he's gathered as an Eagle Scout.
Mimi Pond learned to love drawing early on from her dad and from some of her favorite comics. That led to her creating the graphic memoirs Over Easy and The Customer is Always Wrong. She'll tell us about why she doesn't have much patience for stick figures, and discuss the magic of Oakland, California.
Our guests will compete to answer trivia about comic book characters on the page and small screen.
What's the Difference: Hall of Justice
What's the difference between a hallway and a corridor?
What's the difference between "illegal" and "unlawful"?
Areas of Expertise:
Rob: The TV show "Marvel's Agents of S.H.I.E.L.D.," the movie The Abyss, and CIA tradecraft
Mimi: Mad Magazine, Patty Hearst and shopping at Costco.
Appearing in this episode: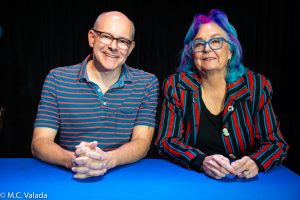 With guest experts:
Mark Evanier, blogger, comic book writer, and author of the book Mad Art : A Visual Celebration of the Art of Mad Magazine and the Idiots Who Create It Paperback.
&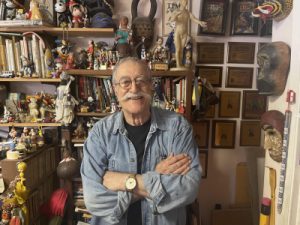 Sergio Aragones, illustrator best known for his contributions to Mad Magazine and creating Groo The Wanderer.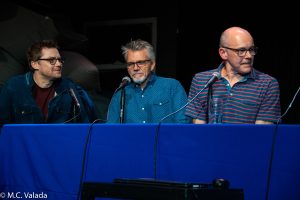 Jed Whedon & Jeffrey Bell, two of the showrunners for "Marvel's Agents of S.H.I.E.L.D."
Go Fact Yourself was devised and is produced by Jim Newman and J. Keith van Straaten, in collaboration with Maximum Fun.
Theme Song by Jonathan Green.
Live show engineer is Dave McKeever.
Maximum Fun's Senior Producer is Laura Swisher.
Associate Producer and Editor is Julian Burrell.
Seeing our upcoming live shows in LA by YOU!
Guests
Rob Corddry
Mimi Pond
Mark Evanier
Sergio Aragones
Jed Whedon
Jeffrey Bell
About the show
Twice a month, host J. Keith van Straaten and co-host Helen Hong quiz the smartest celebrities they know to find out why they love what they love! Recorded before a live audience in downtown Los Angeles, this game show features comedians, actors, and musicians answering arcane questions on topics they claim to be experts in. But don't worry; if they slip up, there are real experts on hand to give us the facts!
If you're in the Los Angeles area and would like to be in the audience for a podcast taping, get your free ticket at http://www.gofactyourpod.com!
Get in touch with the show
How to listen
Stream or download episodes directly from our website, or listen via your favorite podcatcher!
Liked Ep. 115: Rob Corddry & Mimi Pond? Listen to these next...