Episode notes
The celebrity couple on their new podcast: Did you get my text?
Patton Oswalt is a stand-up comedian. He's also an actor – he voiced Remy in Disney's Ratatouille, and played opposite Charlize Theron in Young Adult. His most recent voice work can be heard as the title character in Marvel's M.O.D.O.K. on Hulu.
Meredith Salenger, his wife; is an actor, too. She probably best known for her performances in the '80s teen comedy Dream A Little Dream and the award-winning Journey of Natty Gann alongside John Cusack. She's done voice work on shows like Robot Chicken, Mad: The Animated Series, Star Wars Rebels, and Star Wars: The Clone Wars.
Patton and Meredith keep busy – they're also parents. They don't get much one-on-one time together.
In their podcast Did You Get My Text with Meredith and Patton they take a break from their busy lives as actors to talk about all the text messages, memes and random stuff they sent each other each day.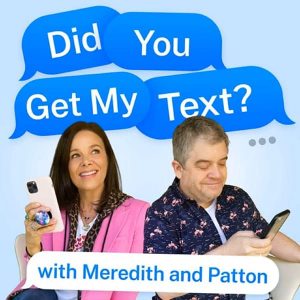 On the latest episode of Bullseye, Patton and Meredith discuss parenting, the joys of being nerdy and their new podcast. Plus, we get into their virtual meet cute – they texted for months before they heard each other's voices.
Heads up: This interview has plenty of jokes, but we also get into some more serious topics like dealing with grief. In 2016, Patton lost his first wife, true crime writer and journalist Michelle McNamara suddenly. We thought we'd give you a heads up.
Guests
Meredith Salenger
Patton Oswalt
About the show
Bullseye is a celebration of the best of arts and culture in public radio form. Host Jesse Thorn sifts the wheat from the chaff to bring you in-depth interviews with the most revered and revolutionary minds in our culture.
Bullseye has been featured in Time, The New York Times, GQ and McSweeney's, which called it "the kind of show people listen to in a more perfect world." Since April 2013, the show has been distributed by NPR.
If you would like to pitch a guest for Bullseye, please CLICK HERE. You can also follow Bullseye on Twitter, YouTube, and Facebook. For more about Bullseye and to see a list of stations that carry it, please click here.
How to listen
Stream or download episodes directly from our website, or listen via your favorite podcatcher!
Liked Patton Oswalt and Meredith Salenger? Listen to these next...