Episode notes
New to Bullseye? Subscribe to our podcast in iTunes or with your favorite podcatcher to make sure you automatically get the newest episode every week.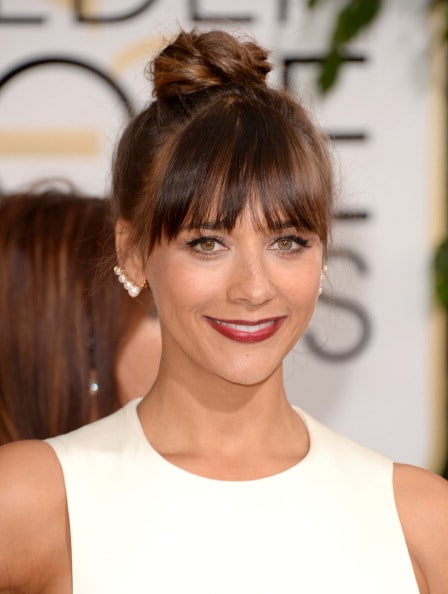 Photo: Jason Merritt / Getty Images
Rashida Jones on Growing Up in the World of Celebrity, Absurdist Comedy and Her Youthful Dreams of Becoming a Judge
Rashida Jones was born into a showbiz family, but she didn't always think she would follow in her famous parents' footsteps. A love of acting lead to roles in shows like Parks and Recreation and The Office and for movie parts including The Social Network and Celeste and Jesse Forever, the later of which she also wrote. Jones currently stars in the TBS comedy, Angie Tribeca.
Rashida Jones talks with Jesse about playing absurdist comedy dead straight, her early dreams of going to boarding school and how those dreams contrasted with her jarring first impressions of Harvard University. Plus she tells us about her childhood experiences hanging out with Michael Jackson's llama.
Angie Tribeca is now in its second season on TBS.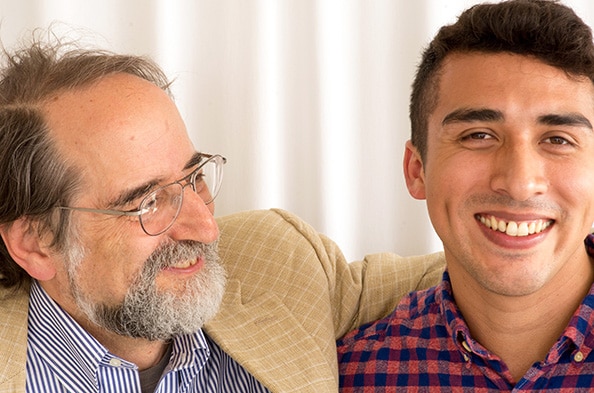 Photo: Jesse Thorn
Ramiro Gomez & Lawrence Weschler on the Invisible Service Community in Affluent Los Angeles and Negotiating Multiple Worlds
For artist Ramiro Gomez, the world of the haves and the have-nots are one and the same. His work focuses on affluent communities and their dependence on a community of immigrants, who become culturally invisible. The son of parents who were once undocumented immigrants, Gomez's body of work has included re-imaginings of the paintings of David Hockney, with domestic workers re-inserted into familiar scenes.
Gomez's new book, Domestic Scenes: The Art of Ramiro Gomez was created in collaboration with Lawrence Weschler. For over twenty years, Weschler served as a staff-writer for The New Yorker and was the two-time winner of the Polk Award. He is the author of several books including True to Life: Twenty-Five Years of Conversations with David Hockney and A Miracle, A Universe: Settling Account of Torturers.
Ramiro Gomez and Lawrence Weschler sat down with Jesse to talk about Gomez's experience as a male nanny, how the work of the painter David Hockney influenced his own art and what it's like to exist in multiple worlds as a both a man of color and a gay man.
Gomez and Weschler's book, Domestic Scenes: The Art of Ramiro Gomez is available now.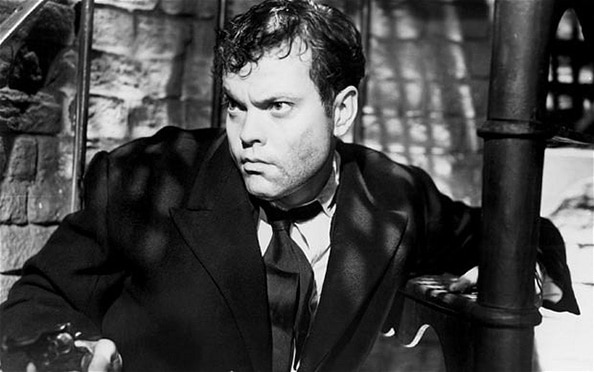 The Outshot: The Third Man
Jesse explores the fun, artistry and dark irony of the of the classic noir film, The Third Man starring Orson Welles and Joseph Cotton.
Guests
Rashida Jones
Ramiro Gomez
Lawrence Weschler
About the show
Bullseye is a celebration of the best of arts and culture in public radio form. Host Jesse Thorn sifts the wheat from the chaff to bring you in-depth interviews with the most revered and revolutionary minds in our culture.
Bullseye has been featured in Time, The New York Times, GQ and McSweeney's, which called it "the kind of show people listen to in a more perfect world." Since April 2013, the show has been distributed by NPR.
If you would like to pitch a guest for Bullseye, please CLICK HERE. You can also follow Bullseye on Twitter, YouTube, and Facebook. For more about Bullseye and to see a list of stations that carry it, please click here.
Get in touch with the show
How to listen
Stream or download episodes directly from our website, or listen via your favorite podcatcher!