Episode notes
New to Bullseye? Subscribe to our podcast in iTunes or with your favorite podcatcher to make sure you automatically get the newest episode every week.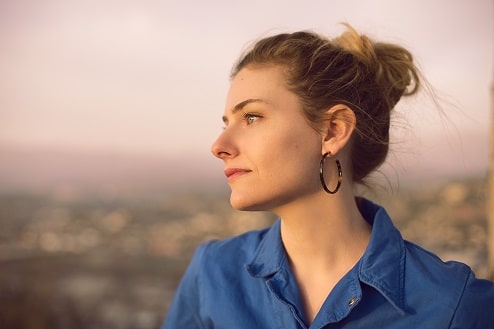 Photo: Kim Newmoney
Lisa Hanawalt, creator of the new Netflix animated series Tuca & Bertie
Lisa Hanawalt is a cartoonist, writer, and author of four brilliant books, including "Hot Dog Taste Test" and "My Dirty Dumb Eyes." Her latest book, "Coyote Dog Girl," is also great. She also co-hosts a podcast here at Maximum Fun called "Baby Geniuses" along with the comic Emily Heller. You may be familiar with her work on the popular animated Netflix series "BoJack Horseman" where she's a producer. Hanawalt is the creator of the new show "Tuca & Bertie." It's an animated series on Netflix and it's very funny.
Tuca & Bertie is a show about two women. Anthropomorphic bird women, to be exact. They live in Bird Town. Tuca is a toucan. She's outgoing and fun, but kind of a mess, too. She doesn't really have a solid job. Bertie, her best friend, is a songbird, kind of a homebody, a little shy and deferential. When the show starts, she's just moved in with her boyfriend.
A lot of the problems Tuca and Bertie encounter are fairly human and grounded: relationship stuff, work problems, sexual harassment. But the world they live in is anything but. The show is breathtakingly drawn and totally surreal: Phones talk. Hospital equipment talks. Plants walk. Lisa based Tuca & Bertie off of characters from her books, characters she's lived with for a long time and sees sort of as extensions of herself.
Lisa talks to us about how intuitive creating Tuca & Bertie was at times,on deciding what to ground in reality and where to take flight, and why she should be allowed to ride Martha Stewart's pony.
A quick warning about this interview you're about to hear: there's some talk about sex in it, mostly just talking about body parts. If you or someone you're listening with might be sensitive to that kind of thing, we're giving you a heads up now.
About the show
Bullseye is a celebration of the best of arts and culture in public radio form. Host Jesse Thorn sifts the wheat from the chaff to bring you in-depth interviews with the most revered and revolutionary minds in our culture.
Bullseye has been featured in Time, The New York Times, GQ and McSweeney's, which called it "the kind of show people listen to in a more perfect world." Since April 2013, the show has been distributed by NPR.
If you would like to pitch a guest for Bullseye, please CLICK HERE. You can also follow Bullseye on Twitter, YouTube, and Facebook. For more about Bullseye and to see a list of stations that carry it, please click here.
Get in touch with the show
How to listen
Stream or download episodes directly from our website, or listen via your favorite podcatcher!