Episode notes
New to Bullseye? Subscribe to our podcast in iTunes or with your favorite podcatcher to make sure you automatically get the newest episode every week.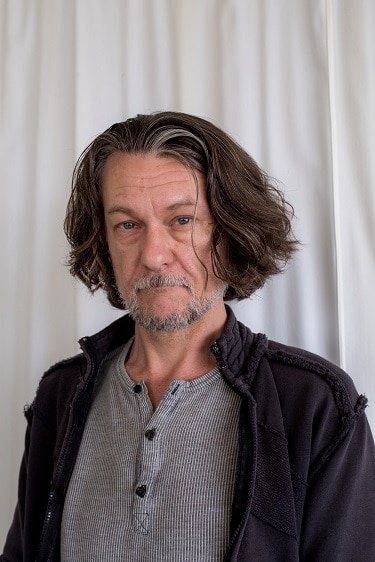 Photo: Jesse Thorn
Ben Edlund reflects on the origins of 'The Tick' and the revival of the cult comic book character
The Tick is one of the strangest, most compelling superheroes ever. Creator Ben Edlund has lived with the character for over 30 years now.
The Tick
has been a comic book series, an animated TV show, a video game, and a live action TV show. Now,
The Tick
is back with another live-action TV show on Amazon.
The Tick is kind of this giant man in a blue suit with antennas on his head. He's got all the classic trappings of a superhero: strength, speed, invincibility. But he's also kind of a dope.He doesn't know where he came from… isn't particularly concerned with money, or jobs, or anything beyond justice and destiny. In this newest show, The Tick is played by previous Bullseye guest Peter Serafinowicz. When he was on last year he talked about playing the superhero.
It's a show that's both preposterous and plausible. The villains are bizarre and goofy – men with chairs for heads, giant trenchcoat wearing lobsters. But there's also people who act like real people. Actions have consequences. And even superheroes aren't immune to government oversight.
Edlund joins us to discuss how his relationship with the character has changed over three decades. Plus, why he feels the latest revival nails the strange, odd tone in ways the other projects haven't. Writing compelling and grounded superhero stories is hard to pull off in a post-Dark Knight world … if you haven't met The Tick by now you're in for a treat!
Note: This interview was recorded before it was announced "The Tick" would not be returning to Amazon.
About the show
Bullseye is a celebration of the best of arts and culture in public radio form. Host Jesse Thorn sifts the wheat from the chaff to bring you in-depth interviews with the most revered and revolutionary minds in our culture.
Bullseye has been featured in Time, The New York Times, GQ and McSweeney's, which called it "the kind of show people listen to in a more perfect world." Since April 2013, the show has been distributed by NPR.
If you would like to pitch a guest for Bullseye, please CLICK HERE. You can also follow Bullseye on Twitter, YouTube, and Facebook. For more about Bullseye and to see a list of stations that carry it, please click here.
Get in touch with the show
How to listen
Stream or download episodes directly from our website, or listen via your favorite podcatcher!