Episode notes
New to Bullseye? Subscribe to our podcast in iTunes or with your favorite podcatcher to make sure you automatically get the newest episode every week.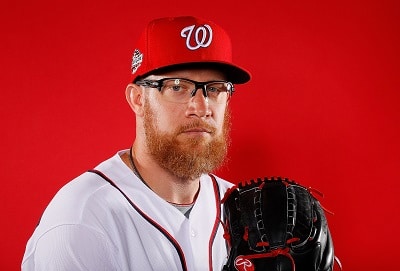 Photo: Kevin C. Cox / Getty Images
Washington Nationals' relief pitcher Sean Doolittle
Washington Nationals reliever Sean Doolittle might be one of the most interesting players in baseball.
Sean had an improbable journey to the majors. He was originally drafted as a hitter in 2007 before being sidelined by knee injuries. He didn't play for two years as a result. When Sean joined us in 2017, he talked to Jesse about the physical and mental obstacles he faced during recovery. At one point, he thought about giving up and going back to college to earn his degree.
Eventually, Sean was encouraged to try his hand at pitching instead. As it turns out, he had an excellent arm and could throw in the mid-to-high-90s. He played with the A's, and was selected as an All-Star in 2014. It's been a pretty good career for a guy that wasn't even supposed to be a pitcher.
Sean's known as one of the nicest guys in the majors. He's used his platform as a baseball player to raise awareness about a number of causes. He's worked with veteran groups, spoken out publicly for LGBT rights and hosted a Thanksgiving dinner with Syrian refugees.
You can find out what Sean's up to on Twitter.
About the show
Bullseye is a celebration of the best of arts and culture in public radio form. Host Jesse Thorn sifts the wheat from the chaff to bring you in-depth interviews with the most revered and revolutionary minds in our culture.
Bullseye has been featured in Time, The New York Times, GQ and McSweeney's, which called it "the kind of show people listen to in a more perfect world." Since April 2013, the show has been distributed by NPR.
If you would like to pitch a guest for Bullseye, please CLICK HERE. You can also follow Bullseye on Twitter, YouTube, and Facebook. For more about Bullseye and to see a list of stations that carry it, please click here.
How to listen
Stream or download episodes directly from our website, or listen via your favorite podcatcher!