Episode notes
New to Bullseye? Subscribe to our podcast in iTunes or with your favorite podcatcher to make sure you automatically get the newest episode every week.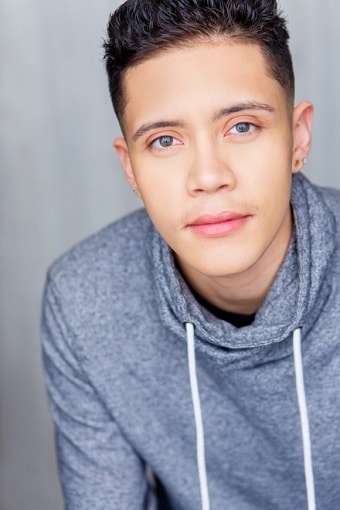 Photo courtesy of Garcia
Garcia on their breakout role in "Tales of the City"
Garcia makes their acting debut on the popular Netflix miniseries
Tales of the City.
It's an update to the LGBTQIA classic which premiered in the 90's on PBS and starred Olympia Dukakis and Laura Linney. The two reprise their roles in the 2019 version. The show is based on the novel series of the same name written by Armistead Maupin which grew out of a newspaper column.
Tales of the City takes place in San Francisco and follows the lives of a group of people living at 28 Barbary Lane. The 90th birthday of Dukakis' Anna Madrigal brings characters together and threatens to uproot deeply seeded secrets and emotions. The cast and characters are from a wide variety of ethnic and racial backgrounds as well as gender expressions and sexual orientations.
In the show, Garcia plays Jake Rodriguez. Jake is a trans man in a relationship with his lesbian girlfriend Margot. Jake is a few years into his transition and is still adjusting to his new life. Margot is adjusting to being in a straight relationship and, although she loves Jake, she expresses her frustrations with the change. This puts a strain on their relationship.
Garcia talks with guest host Shereen Marisol Meraji about working in Hollywood as a trans non-binary person of color and how their chosen family lead them to acting.
Tales of the City is streaming now on Netflix.
About the show
Bullseye is a celebration of the best of arts and culture in public radio form. Host Jesse Thorn sifts the wheat from the chaff to bring you in-depth interviews with the most revered and revolutionary minds in our culture.
Bullseye has been featured in Time, The New York Times, GQ and McSweeney's, which called it "the kind of show people listen to in a more perfect world." Since April 2013, the show has been distributed by NPR.
If you would like to pitch a guest for Bullseye, please CLICK HERE. You can also follow Bullseye on Twitter, YouTube, and Facebook. For more about Bullseye and to see a list of stations that carry it, please click here.
How to listen
Stream or download episodes directly from our website, or listen via your favorite podcatcher!