Episode notes
New to Bullseye? Subscribe to our podcast in iTunes or with your favorite podcatcher to make sure you automatically get the newest episode every week.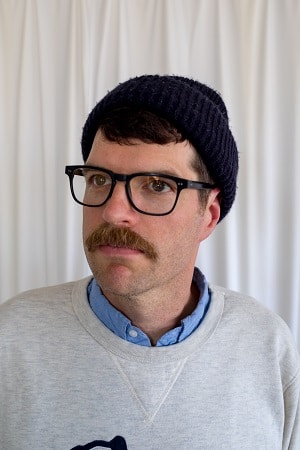 Photo: Jesse Thorn
Timothy Simons on playing Veep's Jonah Ryan for 7 seasons
One of the most iconic things about HBO's Veep was the way the characters insulted one another. Each insult was delivered with laser-like precision to get at each character's insecurities. Perhaps no character on the show received more of these zingers than Jonah Ryan. He was an unlikable White House aide who went on to become one of New Hampshire's least popular members of Congress.
Veep starred Julia Louis-Dreyfus as Selina Meyer. A narcissistic politician who, despite constantly sabotaging herself, manages to ascend to the Oval Office.
Only to lose it almost as quickly.
Jonah, Simons' character, starts the show as a lowly staffer in the West Wing. By the final season, he's a presidential candidate facing off against Selina. It's a wild and funny ride.
Simons talks with Bullseye about his unique, fascinating journey to Veep. He dreamed of being a film and TV actor since he started out in Chicago. He and his wife had only been married a short time before they dropped everything and left the Windy City for Los Angeles. At the time it was a big risk. He didn't have a gig lined up. He had never even been to California. The first time he saw LA was on his drive in from the long haul.
It was a tough transition, but soon after he landed the part as Jonah. When he went into audition he did not look the part at all. The casting directors were looking for someone short, bearded and kind of chubby. Simons, who's slender and tall, gave the writers something different to work with. But it worked.
Simons explains why thick skin doesn't always protect you from fictional insults. Plus, how being a dad has impacted his acting career and knowledge of elementary school handball.
About the show
Bullseye is a celebration of the best of arts and culture in public radio form. Host Jesse Thorn sifts the wheat from the chaff to bring you in-depth interviews with the most revered and revolutionary minds in our culture.
Bullseye has been featured in Time, The New York Times, GQ and McSweeney's, which called it "the kind of show people listen to in a more perfect world." Since April 2013, the show has been distributed by NPR.
If you would like to pitch a guest for Bullseye, please CLICK HERE. You can also follow Bullseye on Twitter, YouTube, and Facebook. For more about Bullseye and to see a list of stations that carry it, please click here.
Get in touch with the show
How to listen
Stream or download episodes directly from our website, or listen via your favorite podcatcher!