Episode notes
New to Bullseye? Subscribe to our podcast in iTunes or with your favorite podcatcher to make sure you automatically get the newest episode every week.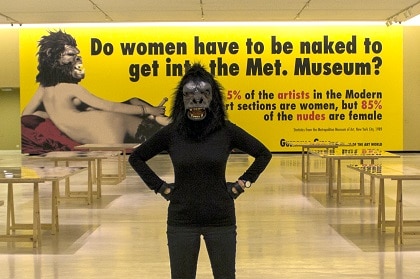 Guerrilla Girl Kathe Kollwitz in Bilbao, 2013. Photo by Guerrilla Girls, courtesy guerrillagirls.com
A conversation with a founding member of feminist art collective The Guerrilla Girls
If you go to an art museum: contemporary, encyclopedic, local – odds are most of the art displayed was made by white men. Even if you leave out the renaissance painters and the Dutch Masters. It's still not that common to see a solo show by a woman or a person of color these days. This was even more true in the mid-80's. Some of New York's most prominent galleries showed less than 10% of women artists. Others were showing no women created art at all.
In 1984, a group of women started an art collective called The Guerrilla Girls. The group was created in response to the Museum of Modern Art's exhibition: "An International Survey of Recent Painting and Sculpture." The exhibits roster of 165 artists only included 13 women. The number of artists of color was even smaller, and none of them were women.
They decided the best way to fight discrimination in the art world was to make art about the discrimination. They took the art to the streets. They pasted it onto the walls all over lower Manhattan. The group demonstrated in front of the museum with placards and picket lines. And they wore gorilla masks while doing it.
The Guerrilla Girls drew attention to issues of discrimination and representation in galleries and museums all over the world. They have entered their third decade as a collective, morphing in membership as the time went on. They still make art for the streets but have also shown in galleries and museums, too.
Jesse talks to a founding member of The Guerrilla Girls, who goes by Kathe Kollwitz. She'll reflect on the origins of the group, her anonymity in the art world and what the group means now more than 30 years later.
You can learn more about The Guerrilla Girls by visiting their website.
About the show
Bullseye is a celebration of the best of arts and culture in public radio form. Host Jesse Thorn sifts the wheat from the chaff to bring you in-depth interviews with the most revered and revolutionary minds in our culture.
Bullseye has been featured in Time, The New York Times, GQ and McSweeney's, which called it "the kind of show people listen to in a more perfect world." Since April 2013, the show has been distributed by NPR.
If you would like to pitch a guest for Bullseye, please CLICK HERE. You can also follow Bullseye on Twitter, YouTube, and Facebook. For more about Bullseye and to see a list of stations that carry it, please click here.
Get in touch with the show
How to listen
Stream or download episodes directly from our website, or listen via your favorite podcatcher!