Episode notes
New to Bullseye? Subscribe to our podcast in iTunes or with your favorite podcatcher to make sure you automatically get the newest episode every week.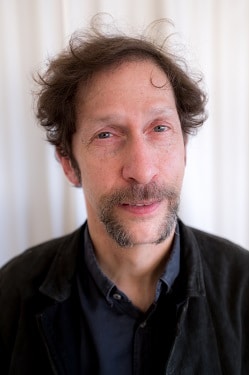 Photo: Jesse Thorn
Tim Blake Nelson on Working With The Coen Brothers and The Jewish Enclave of His Youth in Tulsa, Oklahoma
Tim Blake Nelson is kind of a character actor. He's from Tulsa, and has a little bit of an accent to prove it. He plays up that accent in a lot of his roles: maybe he'll play a desert-dwelling outsider, a corporate type from Texas who wears boots, or a Faulkner character. He's also played unforgettable parts in some great movies, like Delmar O'Donnell in
O' Brother, Where Art Thou?
, the Coen Brothers classic.
Now, he's starring in another Coen Brothers movie – it's called The Ballad of Buster Scruggs, which just debuted on Netflix. The film is made up of six vignettes. Each is a story about the old west told in archetypes: the bounty hunter, the wagon settler, the big goofy gold miner with a big goofy beard and a burro at his side. Tim plays the title character: Buster Scruggs, the star and subject of the first vignette. He's a handsome, kind of flamboyantly dressed singing cowboy with a revolver in his holster and a guitar around his back – kind of a Gene Autry type and he's got a way with words.
Tim talks to Jesse about the career path he would have taken had he not become an actor and the time he got play a villain in a live action version of Scooby Doo – and how he would have gotten away with it, too.
Click here to listen to Tim Blake Nelson's interview on YouTube.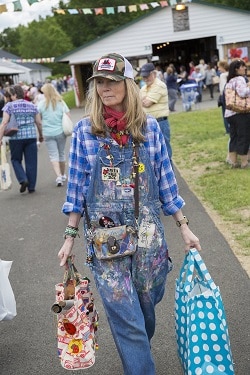 Photo: Courtesy of www.carterjunk.com
Mary Randolph Carter on The Virtues of Junk
Mary Randolph Carter, or Carter, as she's known, has worked high up at fashion house
Ralph Lauren
for decades. She's currently the creative director. That's her day job.
In her free time, she collects stuff. She calls it junk. And she's got a lot of junk.
In her New York apartment, her walls are filled with old pictures. There are books stacked under desks, along the walls, sometimes out in the open. If you're sitting on her sofa with a drink, your best bet is to probably hold onto it: more often than not, her coffee table, surely an antique, is covered in vases, little sculptures, and more books. Always more books.
Does her place look busy? Yeah, a little. But it doesn't look cluttered. It's deliberate. It's thoughtful. Welcoming. Everything has a story.
Mary has authored a handful of books about junk: photos of flea markets, guides to antique stores, and design inspiration. Her design philosophy is summarized in her book titles: A Perfectly Kept House is the Sign of A Misspent Life , Never Stop to Think… Do I Have a Place for This?, and her latest The Joy of Junk: Go Right Ahead, Fall In Love With The Wackiest Things, Find The Worth In The Worthless, Rescue & Recycle The Curious Objects That Give Life & Happiness.
Mary talks to Jesse about meeting Ralph Lauren for the first time and why great junk finding in New York is easy.
Click here to listen to Mary Randolph Carter's interview on YouTube.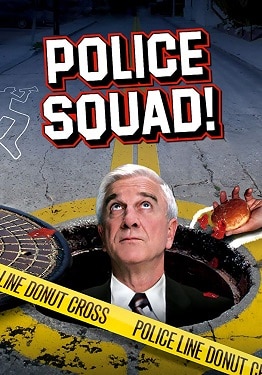 Photo: Paramount Pictures
The Outshot: "Police Squad!"
Finally, Jesse spotlights the short-lived 1982 TV police procedural parody that inspired the Naked Gun movies starring Leslie Nielsen.
Guests
Tim Blake Nelson
Mary Randolph Carter
About the show
Bullseye is a celebration of the best of arts and culture in public radio form. Host Jesse Thorn sifts the wheat from the chaff to bring you in-depth interviews with the most revered and revolutionary minds in our culture.
Bullseye has been featured in Time, The New York Times, GQ and McSweeney's, which called it "the kind of show people listen to in a more perfect world." Since April 2013, the show has been distributed by NPR.
If you would like to pitch a guest for Bullseye, please CLICK HERE. You can also follow Bullseye on Twitter, YouTube, and Facebook. For more about Bullseye and to see a list of stations that carry it, please click here.
How to listen
Stream or download episodes directly from our website, or listen via your favorite podcatcher!