Episode notes
New to Bullseye? Subscribe to our podcast in iTunes or with your favorite podcatcher to make sure you automatically get the newest episode every week.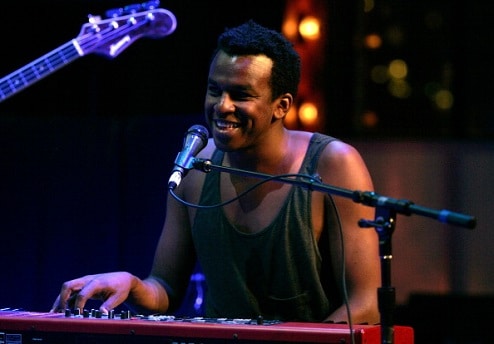 Photo: Mike Lawrie/Getty Images)
Sinkane's Ahmed Gallab
Singer-songwriter Ahmed Gallab is a citizen of the world. Born in London and raised in the United States to Sudanese parents, Gallab creates music that draws inspiration from every corner of the planet. His band, Sinkane, is based in Brooklyn and makes music that fuses Afrobeat, funk and Brooklyn indie-rock vibes. There's even a hint of prog rock and electronica mixed in!
Gallab got his start the way a lot of musicians do, as a session musician. He joined the backing bands for Eleanor Friedberger and Caribou and has worked with of Montreal and Born Ruffians. He also led a tribute band to the late Nigerian funk musician William Onyeabor with the likes of David Byrne of Talking Heads and Damon Albarn from Blur.
Sinkane's debut album Sinisterals was released in 2007. Since then Ahmed's made several great albums. The latest, Dépaysé, mixes genres again with a much more personal feel. Seeking a way to find a good time through music while also addressing oppression head-on, Gallab sought out inspiration from music's past and his own. He looked to a few of his musical inspirations from America's post Civil Rights movement: Sly Stone, George Clinton, Bob Marley. The result was an album that sits firmly in the pocket while feeling more "honest" than the artist's previous creations. He draws from his Sudanese roots, conversations with his father about their Arabic background and the political unrest in their homeland to create a sound that is like nothing else.
Bullseye guest host Shereen Marisol Meraji talks with Ahmed about how a dream inspired this record, why his favorite musicians have a clear political message and how an appearance on Letterman twelve years ago finally changed his parent's mind about his career aspirations.
Dépaysé is available now.
About the show
Bullseye is a celebration of the best of arts and culture in public radio form. Host Jesse Thorn sifts the wheat from the chaff to bring you in-depth interviews with the most revered and revolutionary minds in our culture.
Bullseye has been featured in Time, The New York Times, GQ and McSweeney's, which called it "the kind of show people listen to in a more perfect world." Since April 2013, the show has been distributed by NPR.
If you would like to pitch a guest for Bullseye, please CLICK HERE. You can also follow Bullseye on Twitter, YouTube, and Facebook. For more about Bullseye and to see a list of stations that carry it, please click here.
Get in touch with the show
How to listen
Stream or download episodes directly from our website, or listen via your favorite podcatcher!