Episode notes
New to Bullseye? Subscribe to our podcast in iTunes or with your favorite podcatcher to make sure you automatically get the newest episode every week.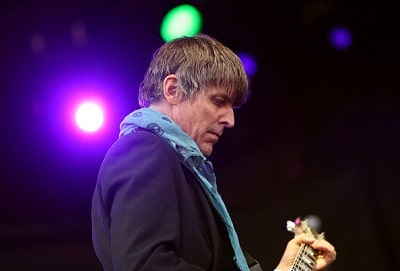 Photo: Mike Lawrie/Getty Images
The Song That Changed my Life: Stephen Malkmus
Stephen Malkmus is the singer and co-founder of Pavement – one of the most beloved and influential modern rock bands of the 90s or ever, for that matter. They recorded so many songs that capture the decade perfectly: Cut Your Hair, Range Life and Stereo just to name a few.
The band broke up in 1999, but Malkmus has kept on, as prolific as ever, dropping 8 records since 2001. His latest just dropped, it's called Groove Denied and includes a different sound including drum machines, vintage synths and a lot of voice reverb. It's a departure for him. A little less like The Fall, a little more like Suicide or Kraftwerk.
What is the song that changed his life? Love Will Keep Us Together by Captain & Tenille.
Yeah. You read that right.
About the show
Bullseye is a celebration of the best of arts and culture in public radio form. Host Jesse Thorn sifts the wheat from the chaff to bring you in-depth interviews with the most revered and revolutionary minds in our culture.
Bullseye has been featured in Time, The New York Times, GQ and McSweeney's, which called it "the kind of show people listen to in a more perfect world." Since April 2013, the show has been distributed by NPR.
If you would like to pitch a guest for Bullseye, please CLICK HERE. You can also follow Bullseye on Twitter, YouTube, and Facebook. For more about Bullseye and to see a list of stations that carry it, please click here.
Get in touch with the show
How to listen
Stream or download episodes directly from our website, or listen via your favorite podcatcher!