Episode notes
New to Bullseye? Subscribe to our podcast in iTunes or with your favorite podcatcher to make sure you automatically get the newest episode every week.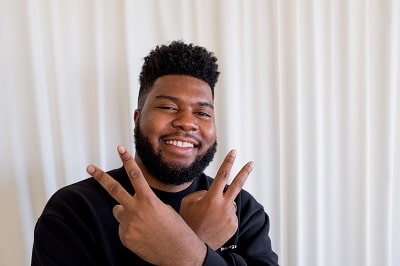 Photo: Jesse Thorn
Khalid on his wild ride to fame, and making intimate R&B music
R&B singer Khalid has recorded about a dozen legitimate hit songs. He's sold millions of albums. Plus, has hundreds of millions of plays on streaming apps. He plays to huge crowds. Madison Square Garden. MGM Grand Garden. Staples Center. You can catch him
on tour this summer
at an arena near you.
Khalid's breakthrough single was called "Location." It was one of the first songs he ever wrote. He was 18 when it dropped. He's only 21 now. People thought he was easily 10 years older. There's a richness to his voice, a kind of grace, too. He sings like a person who's seen some stuff. Khalid doesn't really record outright dance tracks, but he doesn't have a lot of ballads, either. His songs are steady. They're almost always plainly spoken.
His debut album American Teen was a sincere look at what he believes it's like to be young person nowadays. Songs like "Young Dumb & Broke" and "Another Sad Love Song
" convey emotions most teenagers have, but his songwriting shines when he's specific and intimate. In "8Teen," he's concerned his mom is going to kill him because his car smells like weed. You know teenager stuff.
He's got a new record coming out later this week, it's called Free Spirit. Khalid tell us about the weird, amazing world of being super famous. We'll also talk about his childhood, growing up in and around several different army bases. And why some people have a hard time believing he's only 21. We know Khalid can sing, but can he rap? We'll get him to freestyle some bars. You don't want to miss it!
About the show
Bullseye is a celebration of the best of arts and culture in public radio form. Host Jesse Thorn sifts the wheat from the chaff to bring you in-depth interviews with the most revered and revolutionary minds in our culture.
Bullseye has been featured in Time, The New York Times, GQ and McSweeney's, which called it "the kind of show people listen to in a more perfect world." Since April 2013, the show has been distributed by NPR.
If you would like to pitch a guest for Bullseye, please CLICK HERE. You can also follow Bullseye on Twitter, YouTube, and Facebook. For more about Bullseye and to see a list of stations that carry it, please click here.
Get in touch with the show
How to listen
Stream or download episodes directly from our website, or listen via your favorite podcatcher!