Episode notes
New to Bullseye? Subscribe to our podcast in iTunes or with your favorite podcatcher to make sure you automatically get the newest episode every week.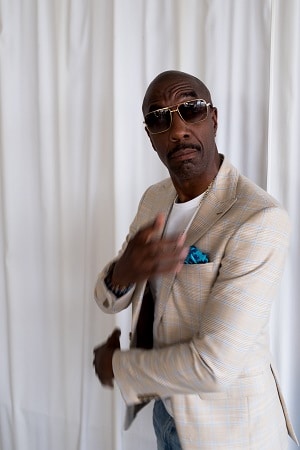 Photo: Jesse Thorn
J.B. Smoove on Curb Your Enthusiasm, writing on Saturday Night Live and more
J.B. Smoove is without a doubt one of the funniest people we've ever had on Bullseye.
He got his start in television as one of the stars of Def Comedy Jam in the mid-90's. In the early aughts he became a writer on Saturday Night Live. J.B. wrote sketches like a commercial for "Tylenol Extreme," and a hypothetical remake of Norman Lear's "Good Times." He's probably best known for his role as Leon on Curb Your Enthusiasm.
Currently, you can check him out in Spider-Man: Far From Home. In the film, J.B. plays Peter Parker's teacher, Julius Dell. He has some really funny moments as Parker's chaperone.
J.B. joins us to talk about his time on SNL. He'll explain how an audition to be a featured cast member actually landed him a job as a writer instead. We'll hear about a few of his favorite sketches that never made it to air.
He'll also talk about his work on Curb Your Enthusiasm, and why he always goes to an audition in character. Plus, he'll tell us about the time he told Howard Stern, and we quote: "You can't eat spaghetti on an open patio." Join us to learn exactly what he means!
When he's not working on screen he keeps busy on the road. He tries to test out as much new material as possible. You can see him on tour all over the country this summer and fall. Check out his website for latest dates.
A heads up to listeners, this episode contains many censored expletives throughout the interview.
About the show
Bullseye is a celebration of the best of arts and culture in public radio form. Host Jesse Thorn sifts the wheat from the chaff to bring you in-depth interviews with the most revered and revolutionary minds in our culture.
Bullseye has been featured in Time, The New York Times, GQ and McSweeney's, which called it "the kind of show people listen to in a more perfect world." Since April 2013, the show has been distributed by NPR.
If you would like to pitch a guest for Bullseye, please CLICK HERE. You can also follow Bullseye on Twitter, YouTube, and Facebook. For more about Bullseye and to see a list of stations that carry it, please click here.
Get in touch with the show
How to listen
Stream or download episodes directly from our website, or listen via your favorite podcatcher!