Episode notes
New to Bullseye? Subscribe to our podcast in iTunes or with your favorite podcatcher to make sure you automatically get the newest episode every week.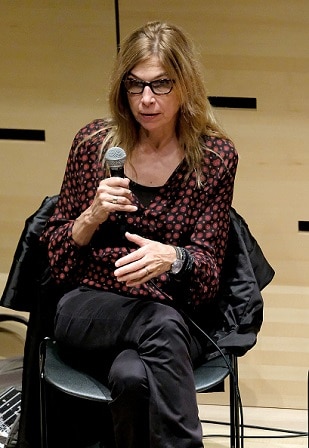 Photo: Jamie McCarthy/Getty Images
Director Sara Driver on independent filmmaking and her love for the "old" New York.
Sara Driver, is an artist and filmmaker. She's a part of the Manhattan independent filmmaking renaissance that the city underwent through the late 1970s through the 90s. When we spoke with the director and actor in 2018, she had just directed a new documentary called
Boom For Real: The Late Teenage Years of Jean-Michel Basquiat.
The movie shows a side of one of the great 20th century artists not often seen – a savvy young upstart painting on the walls all over Manhattan's Lower East Side.
Driver, an artist herself, lived and worked in the same art community that propelled Basquiat to stardom. And because of that, Boom For Real kind of tells two stories: there's Basquiat's – who shows up in archival footage but never speaks. And there's New York City's. Pre-9/11, pre-Reagan, pre-real estate boom. Boom for Real strikes a careful balance between nostalgia and danger, between nuance and hero worship.
The filmmaker discusses what it felt like to capture on film a New York of old, particularly for working artists, and why Whole Foods makes her nostalgic for the past.
Sara Driver currently appears in Jim Jarmusch's The Dead Don't Die.
About the show
Bullseye is a celebration of the best of arts and culture in public radio form. Host Jesse Thorn sifts the wheat from the chaff to bring you in-depth interviews with the most revered and revolutionary minds in our culture.
Bullseye has been featured in Time, The New York Times, GQ and McSweeney's, which called it "the kind of show people listen to in a more perfect world." Since April 2013, the show has been distributed by NPR.
If you would like to pitch a guest for Bullseye, please CLICK HERE. You can also follow Bullseye on Twitter, YouTube, and Facebook. For more about Bullseye and to see a list of stations that carry it, please click here.
Get in touch with the show
How to listen
Stream or download episodes directly from our website, or listen via your favorite podcatcher!