Episode notes
New to Bullseye? Subscribe to our podcast in iTunes or with your favorite podcatcher to make sure you automatically get the newest episode every week.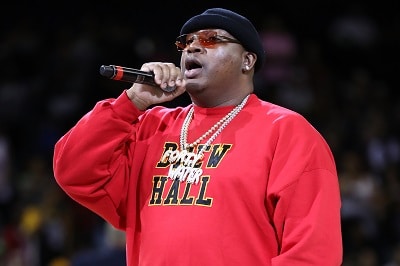 Photo: Ezra Shaw / Getty Images
E-40 on his new record Practice Makes Paper and growing up in the Bay area
When it comes to Bay Area hip-hop, this week's guest is quite possibly the greatest of all time. He goes by many names: Forty Fonzarelli, Charlie Hustle, 40-Water or maybe you know him as the Ambassador of the Bay Area. We couldn't be more excited to share this conversation with the one and only E-40.
He was born and raised in the small town of Vallejo, and he has brought the culture of the Bay Area to the world. His distinctive style is overflowing with language — bars stuffed to the gills with words both real and imagined. He's hip-hop's king of slang and a stylist without peer.
He's spent his career at the forefront of independent music, building a rap empire that changed the way music was recorded and sold, in hip-hop and beyond. He is both an artist and a movement.
His distinctiveness has kept him relevant for three decades now, from mob music in the 1990's to hyphy slaps in the aughts to new music today.
The themes are simple: hustling, street life, a bit of wisdom and a lot of money making. But even now, in his early 50's he tries to stay humble about his success.
E-40 joins us to talk about his new record. We'll pull up some deep cuts from R&B singer Saint Charles, who 40 knows as his Uncle Chuckie. Chuckie was a huge inspiration for E-40. E will also take us to the root of his passion for music. Plus, he'll talk about his college days at Grambling State University. Did he win the school's talent show? Only one way to find out. Listen up!
E-40's latest record "Practice Makes Paper" is out now.
About the show
Bullseye is a celebration of the best of arts and culture in public radio form. Host Jesse Thorn sifts the wheat from the chaff to bring you in-depth interviews with the most revered and revolutionary minds in our culture.
Bullseye has been featured in Time, The New York Times, GQ and McSweeney's, which called it "the kind of show people listen to in a more perfect world." Since April 2013, the show has been distributed by NPR.
If you would like to pitch a guest for Bullseye, please CLICK HERE. You can also follow Bullseye on Twitter, YouTube, and Facebook. For more about Bullseye and to see a list of stations that carry it, please click here.
Get in touch with the show
How to listen
Stream or download episodes directly from our website, or listen via your favorite podcatcher!