Episode notes
This week!
Rap Recommendations: Andrew Noz schools us on some rap you may have missed, with vampire imitator and Bay Area rapper Cousin Fik's track I Am a Vampire" and tangential Odd Future member Pyramid Vritra's Blu Diamonds. (Embed or share this segment)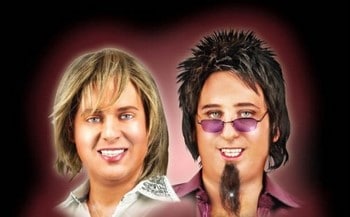 Comedy Duo Tim & Eric: Masters of the surreal, uncomfortable and gross Tim Heidecker and Eric Wareheim, talk to us about moving past the curated internet weirdness, working with both hugely unique but unknown performers — like puppeteer David Liebe Hart — and established actors like John C. Reilly. They also give us behind the scenes insight on the promotion of their newest project, Tim & Eric's Billion Dollar Movie and their unofficial support of another great cinema classic, Shrek 3. Tim & Eric's Billion Dollar Movie is available now On Demand, and will be released in theaters on March 2nd.
Click through to listen to the NSFPR (Not Safe for Public Radio) extended cut of the interview. (Embed or share this segment)
God's Effusions (on His Favorite Things): Did you ever stop to consider God's favorite things? Wonder no more. Emmy award winning comedy writer David Javerbaum is the unlikely co-writer of The Last Testament: A Memoir by God. Comedian Seth Morris acts as God's loudspeaker to bring us this excerpt. (Embed or share this segment)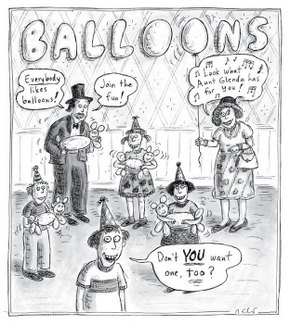 Cartoonist Roz Chast: If you've ever read the New Yorker, you've likely come across one of Roz Chast's uniquely anxious cartoons. Now, she shares with us some of her anxieties and how she puts them down with a bullet-point in her book What I Hate: From A to Z. If you've ever felt imperiled by sitting on the ground or a balloon's frustratingly imminent pop — Roz can commiserate. (Embed or share this segment)
The Outshot: Jesse helps us see the genuine emotion and delicacy Randy Newman exhibits in his songwriting beyond the film soundtracks he's known for, in the album Sail Away. (Embed or share this segment)
You can subscribe to our podcast in iTunes or the RSS feed — stay tuned for next week's Bullseye!
Guests
Tim Heidecker
Eric Wareheim
Roz Chast
Andrew Noz
Seth Morris
David Javerbaum
About the show
Bullseye (formerly known as The Sound of Young America) is a weekly celebration of the best of arts and culture. Host Jesse Thorn sifts the wheat from the chaff to bring listeners in-depth interviews with the most revered and revolutionary minds in our culture.
The show is carried by public radio stations around the country, and was the first public radio program west of the Mississippi to podcast. It has received plaudits from publications like Time Magazine (which called it "Pick of the Podcasts") and Salon.com. It was also honored by the iTunes editorial staff as a "classic" Best of iTunes selection. Since April 2013, the show has been distributed by NPR.
If you would like to pitch a guest for Bullseye, please email producer@maximumfun.org. Follow @Bullseye on Twitter and join the Bullseye Facebook group.
How to listen
Stream or download episodes directly from our website, or listen via your favorite podcatcher!