Episode notes
New to Bullseye? Subscribe to our podcast in iTunes or with your favorite podcatcher to make sure you automatically get the newest episode every week.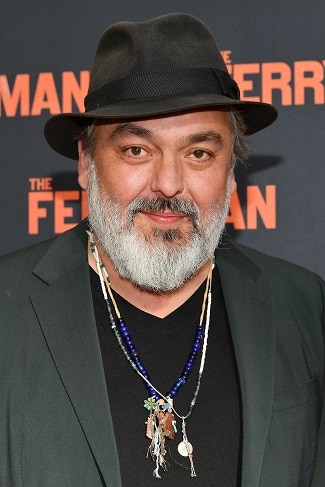 Photo: Dia Dipasupil / Getty Images
Playwright Jez Butterworth on his latest work 'The Ferryman'

Jez Butterworth is a screenwriter and playwright. His works make up a pretty eclectic resume, including: the science fiction film "Edge of Tomorrow," the mob drama "Black Mass" and even the James Bond film "Spectre." On the stage, he's written comedies and dramas that cover topics like murder, music and war.
His latest play, "The Ferryman" is on Broadway right now. It tells a powerful, affecting story about death and loss. It's set during The Troubles: the decades long conflict over Northern Ireland that killed thousands. It tells the story of the Carney family, who lives in Derry, in Northern Ireland. Authorities have just found the body Seamus Carney, who's been missing for almost a decade. We find out early on that Seamus was killed by the IRA, and the family is now left to deal with the fallout of that event.
The play is unique in a lot of different ways. At one point, there are 21 actors on stage at the same time, one of them is an infant. You'll also see a live goose and a rabbit – it's a visceral, uncommon theater experience.
Jez will tell us all about his latest work, including what it's like to work with animals live on stage. He'll also explain why writing films come pretty naturally to him but why writing plays can be uniquely challenging.
"The Ferryman" has been extended up until July 7, 2019. Make sure to check it out if you're in New York.
About the show
Bullseye (formerly known as The Sound of Young America) is a weekly celebration of the best of arts and culture. Host Jesse Thorn sifts the wheat from the chaff to bring listeners in-depth interviews with the most revered and revolutionary minds in our culture.
The show is carried by public radio stations around the country, and was the first public radio program west of the Mississippi to podcast. It has received plaudits from publications like Time Magazine (which called it "Pick of the Podcasts") and Salon.com. It was also honored by the iTunes editorial staff as a "classic" Best of iTunes selection. Since April 2013, the show has been distributed by NPR.
If you would like to pitch a guest for Bullseye, please email producer@maximumfun.org. Follow @Bullseye on Twitter and join the Bullseye Facebook group.
How to listen
Stream or download episodes directly from our website, or listen via your favorite podcatcher!