Episode notes
New to Bullseye? Subscribe to our podcast in iTunes or with your favorite podcatcher to make sure you automatically get the newest episode every week.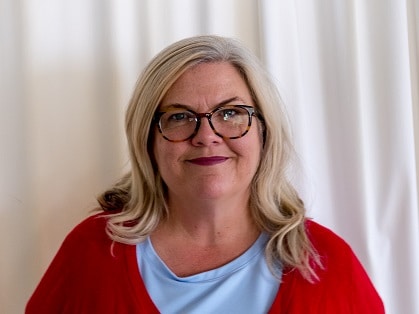 Photo: Jesse Thorn
Paula Pell on 'Wine Country' and working at 'SNL' for almost two decades
So many of the sketches Paula Pell has written for Saturday Night Live are stone-cold classics. There's the Culps, Ana Gasteyer and Will Ferrell's bizarre pop music duo. The Spartan Cheerleaders. The Tony Bennett Show. Remember when Justin Timberlake brought us on down to Omeletteville? We have Paula Pell to thank for a lot of wonderful and hilarious work on SNL.
Pell spent 18 years behind the scenes as a writer on the show. She's truly an SNL MVP. After her time on SNL she wrote for 30 Rock, the Oscars, and the Golden Globes. She's had roles on Parks and Recreation, Big Mouth, and, most recently, the NBC show AP Bio. She plays Helen, the goofy high school administrator who eats tomato sauce and hair.
Pell joins us to talk about her latest project: Wine Country. She co-stars alongside SNL alums Amy Poehler, Maya Rudolph, Tina Fey, and Rachel Dratch. It's a story about a group of women reconnecting over a birthday weekend in Napa. The group became life-long friends during their stint working at a Chicago pizzeria. People moved. Got married. Grew apart. This movie deals with preserving those friendships despite life getting in the way. It's based in part from a real wine trip the stars took for Dratch's 50th birthday.
Pell also pulls back the curtain and discusses some of her more controversial work on SNL. Plus: why, when she was a writer on SNL, she was so much more comfortable as a writer than a performer.
Sincerely, one of the funniest people we've ever had on the show. Don't sleep on this one!
A quick warning about this interview you're about to hear: there's some talk about sex in it. Nothing super graphic or descriptive, but we wanted to give you a heads up.
About the show
Bullseye is a celebration of the best of arts and culture in public radio form. Host Jesse Thorn sifts the wheat from the chaff to bring you in-depth interviews with the most revered and revolutionary minds in our culture.
Bullseye has been featured in Time, The New York Times, GQ and McSweeney's, which called it "the kind of show people listen to in a more perfect world." Since April 2013, the show has been distributed by NPR.
If you would like to pitch a guest for Bullseye, please CLICK HERE. You can also follow Bullseye on Twitter, YouTube, and Facebook. For more about Bullseye and to see a list of stations that carry it, please click here.
Get in touch with the show
How to listen
Stream or download episodes directly from our website, or listen via your favorite podcatcher!