Episode notes
New to Bullseye? Subscribe to our podcast in iTunes or with your favorite podcatcher to make sure you automatically get the newest episode every week.
And if you're looking for a particular segment to listen to or share, check us out on Soundcloud.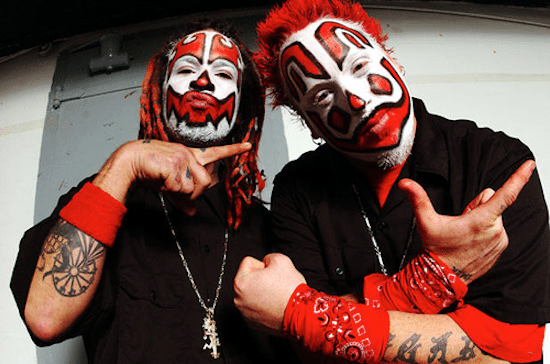 Insane Clown Posse
Becoming an Enthusiast: Nathan Rabin on Loving Phish and ICP
Some bands thrive in the cultural middleground. You can play their music in the grocery store, and no one objects. Neither the jam band Phish nor the horrorcore hip hop duo Insane Clown Posse plays that kind of music. Each group has a rabid, devoted following of fans, and on the flip side, has inspired intense loathing. Phish's noodley covers and original songs are derided as music for druggies and hacky-sack playing college students. Insane Clown Posse and their dark, often violent music is for "Juggalos", their group of Faygo-drinking, clown makeup- wearing fans.
As a longtime culture critic and former Head Writer of The Onion's AV Club, Nathan Rabin thought he was immune to the draw of either group. Their music and communities weren't high-brow. They weren't terribly fashionable or cool. So he set out to write a kind of sociological text about the groups, and find out why they had such die-hard fans. He didn't know he would end up a convert.
Rabin's new book is You Don't Know Me, But You Don't Like Me: Phish, Insane Clown Posse, And My Adventures With Two Of Music's Most Maligned Tribes.
Rabin tells us about his psychedelic experiences at their concerts, his mental breakdown halfway through researching the book, and finding solace in music and community among Phish Heads and Juggalos.
If you liked this, let someone know! Click here to share this segment with your friends.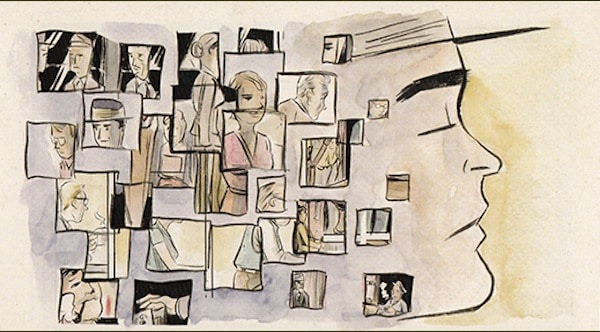 Red Handed: The Fine Art of Strange Crimes
Comic Recommendations From Brian Heater and Alex Zalben
Brian Heater and Alex Zalben stop by to recommend their favorite graphic novels as of late.
Brian recommends Aesthetics: A Memoir by Ivan Brunetti. A self-taught artist, illustrator for the New Yorker, and currently on faculty at Columbia College Chicago, Brunetti examines his many influences and how they combined to make his unique, simple, DIY style.
Alex suggests Matt Kindt's Red Handed: The Fine Art of Strange Crimes. In the town of Red Wheelbarrow, no crime gets by Detective Gould. But can this hardboiled detective connect the dots between a young woman who obsessively steals chairs, a man who carts dirt around town, and a photographer whose subject matter is others' private tragedies?
Brian Heater is the author of BoingBoing's comics column, Comics Rack. He also hosts the new podcast, Recommended if you Like.
Alex Zalben is a producer for MTV Geek and host of the Nerdist podcast Comic Book Club.
If you liked this, let someone know! Click here to share this segment with your friends.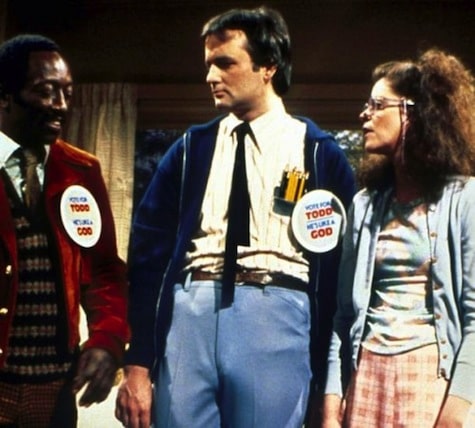 An early "nerd" sketch on Saturday Night Live
Nerding It Up With Benjamin Nugent
This interview originally aired in 2008.
Benjamin Nugent's book American Nerd explores a people and their history. Nerds have been an archetype for decades now. But where did they come from? What is a "nerd", anyway? Benjamin Nugent set out to write a loving portrait of nerds and nerdiness — including his own.
He talks to us about the origins of "nerds" in the humor pages of college newspapers, Saturday Night Live's first dig at nerds , and the underappreciated toughness of his nerdy friends in middle school.
Nugent released a novel, Good Kids, earlier this year.
If you liked this, let someone know! Click here to share this segment with your friends.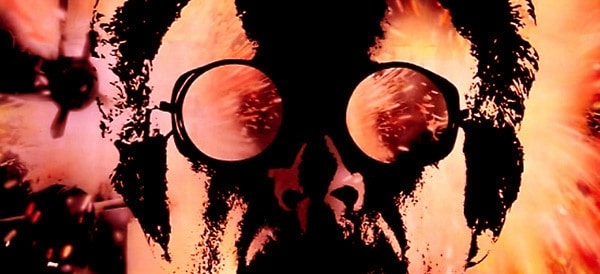 The Outshot: Thief
Jesse recommends the 1981 noir Thief, starring James Caan. It's a crime thriller about one last job, but it's just as much about running from loneliness as it is about running from the cops. Director Michael Mann infuses it with a cool, dark beauty unlike any robbery film you've seen.
If you liked this, let someone know! Click here to share this segment with your friends.
Guests
Nathan Rabin
Benjamin Nugent
Brian Heater
Alex Zalben
About the show
Bullseye is a celebration of the best of arts and culture in public radio form. Host Jesse Thorn sifts the wheat from the chaff to bring you in-depth interviews with the most revered and revolutionary minds in our culture.
Bullseye has been featured in Time, The New York Times, GQ and McSweeney's, which called it "the kind of show people listen to in a more perfect world." Since April 2013, the show has been distributed by NPR.
If you would like to pitch a guest for Bullseye, please CLICK HERE. You can also follow Bullseye on Twitter, YouTube, and Facebook. For more about Bullseye and to see a list of stations that carry it, please click here.
Get in touch with the show
How to listen
Stream or download episodes directly from our website, or listen via your favorite podcatcher!