Episode notes
New to Bullseye? Subscribe to our podcast in iTunes or with your favorite podcatcher to make sure you automatically get the newest episode every week.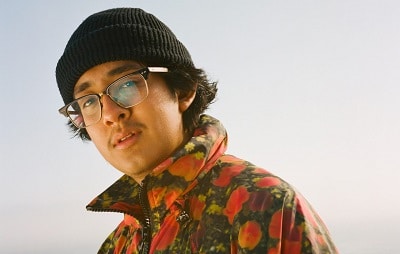 Photo: Cameron Postforoosh
The Song That Changed My Life: Cuco on Tame Impala's Feels Like We Only Go Backwards
The Song That Changed My Life
is a segment that gives us the chance to talk with some of our favorite artists about the music that made them who they are today.
This time around, we're joined by the musician Cuco. He got his start making music in his bedroom. He combines dreamy synths, catchy hooks and a bit of jazz trumpet to create a sleepy psychedelia vibe.
It's common for a lot of our guests to pick a song they first heard when they were in their teenage years. Cuco might be the youngest person who's joined us for this segment. He's a 21 year old from Hawthorne, California. He got a little modern on us with his song pick – a song that came out back in 2012.
So where did he get his psychedelic bedroom pop sound?
Cuco explains how Tame Impala's Feels Like We Only Go Backwards helped him visualize his career in music, and how the song helped him navigate life in high school.
Cuco will be on tour in a city near you very soon. His new album Para Mi is out now. Check out his website for more information.
About the show
Bullseye (formerly known as The Sound of Young America) is a weekly celebration of the best of arts and culture. Host Jesse Thorn sifts the wheat from the chaff to bring listeners in-depth interviews with the most revered and revolutionary minds in our culture.
The show is carried by public radio stations around the country, and was the first public radio program west of the Mississippi to podcast. It has received plaudits from publications like Time Magazine (which called it "Pick of the Podcasts") and Salon.com. It was also honored by the iTunes editorial staff as a "classic" Best of iTunes selection. Since April 2013, the show has been distributed by NPR.
If you would like to pitch a guest for Bullseye, please email producer@maximumfun.org. Follow @Bullseye on Twitter and join the Bullseye Facebook group.
How to listen
Stream or download episodes directly from our website, or listen via your favorite podcatcher!