Episode notes
New to Bullseye? Subscribe to our podcast in Apple Podcasts or with your favorite podcatcher to make sure you automatically get the newest episode every week.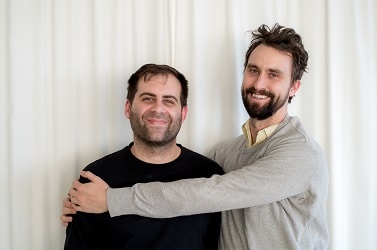 Photo: Jesse Thorn
Jake Weisman and Matt Ingebretson on their new Comedy Central show 'Corporate'
Technically, the new Comedy Central show
Corporate
is a workplace comedy. But it's so much darker, weirder and universal than that. The show follows the lives of Jake and Matt, two junior executives in training at Hampton Deville. Every character on the show is a little depressed and angry about working for a soul-sucking giant multinational corporation. Matt and Jake have just enough power and money to keep working there, but not enough to make any real impact in the company.
Corporate
goes beyond your standard office comedy and dives into deeper themes like the capitalism, art, suicide, and even the meaninglessness of life.
Corporate
has a great supporting cast including Lance Reddick, Anne Dudek, Aparna Nancherla, and Baron Vaughn. Deadpan humor and satire is tough, but
Corporate
really nails it.
Jesse sat down with co-creators and stars of Corporate Jake Weisman and Matt Ingebretson to talk about getting the shows tone right, what it was like pitching the show to a corporation, and why they cast Lance Reddick, who played Cedric Daniels on The Wire to play the CEO of Hampton Deville. Plus, they talk about how magic mushrooms helped them write some of the episodes — you don't wanna miss that!
Click here to listen to this interview on YouTube!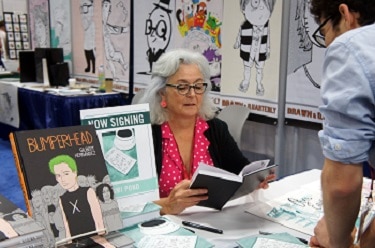 Photo: Jagrap via Flickr Creative Commons
The Craziest Day Of My Entire Career: Mimi Pond
Mimi Pond is a cartoonist whose work has appeared in the National Lampoon, the LA Times, and the New York Times. For almost a decade she had a regular full page comic in Seventeen Magazine. She's also a television writer. Mimi wrote one of the most iconic episodes of the Simpsons ever made: "Simpsons Roasting on an Open Fire." In that episode, Homer doesn't get a Christmas bonus from Mr.Burns and Homer gets a job at the mall as Santa to pay for holiday expenses. The episode introduced us to the Simpson's family dog, Santa's Little Helper. That episode also introduced the world to the Simpsons — it was the first episode of
The Simpsons
to air on television. Mimi's also written for Pee-Wee's Playhouse and Designing Women.
Before all that, Mimi worked at a handful of diners in the 70's as a waitress. She's written two graphic novels loosely based on her time as a server. The first was "Over Easy" in 2014 and the most recent is "The Customer is Always Wrong." We asked her to tell us about the craziest day of her career, and she had a lot to say about one particular dinner shift when the head cook disappeared.
Mimi Pond's book "The Customer is Always Wrong" is out now.
Click here to listen to this segment on YouTube!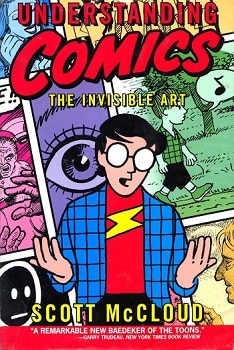 The Outshot: 'Understanding Comics'
Finally, for this week's Outshot: "Understanding Comics" by Scott McCloud. It's a graphic novel about understanding comic books that assumes you know nothing about comics. If you've never picked up a comic book before this is a good place to start.
Guests
Matt Ingebretson
Jake Weisman
Mimi Pond
About the show
Bullseye is a celebration of the best of arts and culture in public radio form. Host Jesse Thorn sifts the wheat from the chaff to bring you in-depth interviews with the most revered and revolutionary minds in our culture.
Bullseye has been featured in Time, The New York Times, GQ and McSweeney's, which called it "the kind of show people listen to in a more perfect world." Since April 2013, the show has been distributed by NPR.
If you would like to pitch a guest for Bullseye, please CLICK HERE. You can also follow Bullseye on Twitter, YouTube, and Facebook. For more about Bullseye and to see a list of stations that carry it, please click here.
Get in touch with the show
How to listen
Stream or download episodes directly from our website, or listen via your favorite podcatcher!