Episode notes
New to Bullseye? Subscribe to our podcast in iTunes or with your favorite podcatcher to make sure you automatically get the newest episode every week.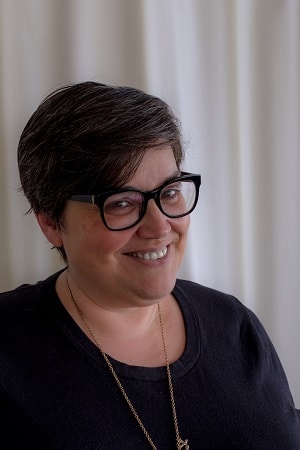 Photo: Jesse Thorn
Writer Linda Holmes on her debut novel "Evvie Drake Starts Over."
If you've arrived from a far-off galaxy and need to quickly ascertain what the most worthy bits of pop culture information are to take back to your home planet, you'd do no better than following the musings of Linda Holmes. Holmes, a pop culture critic and one of the hosts of the NPR podcast
Pop Culture Happy Hour
is smart, witty, and very funny. She has amazing taste in TV and movies and loves to talk about it. She even recently convinced us that the entire cast of that new Sonic movie is worth pulling for and well… you saw the
trailer.
But Linda's first love has always been writing. She's just released her debut novel titled Evvie Drake Starts Over. It's about a young woman dealing with the grief of losing a husband whose life intersects with a major league baseball pitcher who is experiencing a slump in his season.
Linda could have mailed it in. She could have turned in 300 pages about a great TV show or band you've never heard of, but you've probably got a million of those types of books on your bookshelves and tablets already. Instead, she decided to write a book about love, loss, and the power of starting over. It's quite good.
Evvie Drake Starts Over is out now.
About the show
Bullseye is a celebration of the best of arts and culture in public radio form. Host Jesse Thorn sifts the wheat from the chaff to bring you in-depth interviews with the most revered and revolutionary minds in our culture.
Bullseye has been featured in Time, The New York Times, GQ and McSweeney's, which called it "the kind of show people listen to in a more perfect world." Since April 2013, the show has been distributed by NPR.
If you would like to pitch a guest for Bullseye, please CLICK HERE. You can also follow Bullseye on Twitter, YouTube, and Facebook. For more about Bullseye and to see a list of stations that carry it, please click here.
Get in touch with the show
How to listen
Stream or download episodes directly from our website, or listen via your favorite podcatcher!