Episode notes
New to Bullseye? Subscribe to our podcast in iTunes or with your favorite podcatcher to make sure you automatically get the newest episode every week.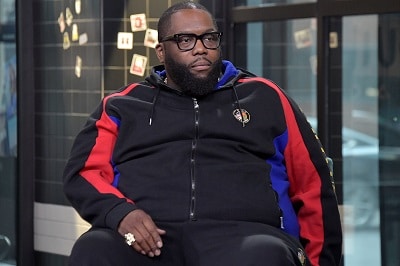 Photo: Dia Dipasupil / Getty Images
Killer Mike on his new Netflix show 'Trigger Warning'
The last time we spoke to Killer Mike, he was just coming off the release of his solo album, "I Pledge Allegiance to the Grind" back in 2007. Twelve years later, he's is still on that grind and busier than ever.
Nowadays he's one-half of Grammy nominated duo Run the Jewels with partner El-P. Together they've put out three great albums – with a fourth on the way later this year. Now, he's in his very own Netflix series, "Trigger Warning with Killer Mike."
In the show, Killer Mike tackles some of the most complicated racial and societal issues in America through social experiments. In the series, he tries to unpack subjects like religion, the black economy, education, and gangs.
In one experiment Killer Mike examines the hypocrisy behind celebrating violence and criminal activity. He rationalizes that if a biker gang like Hells Angels can sell merchandise on Amazon and capitalize on America's fascination with the "bad guys," perhaps a gang like the Crips could do the same. He spends the episode trying to bring a product called "Crip-A-Cola" market. The result is quite funny, and very brilliant, too.
Killer Mike joins us to talk about his new Netflix series. He'll chat about the genesis of Run The Jewels and what it's like to collaborate with El-P. Plus, how he became friends with legendary comedian and activist Dick Gregory, and what it was like hitting the road campaigning with Bernie Sanders.
About the show
Bullseye is a celebration of the best of arts and culture in public radio form. Host Jesse Thorn sifts the wheat from the chaff to bring you in-depth interviews with the most revered and revolutionary minds in our culture.
Bullseye has been featured in Time, The New York Times, GQ and McSweeney's, which called it "the kind of show people listen to in a more perfect world." Since April 2013, the show has been distributed by NPR.
If you would like to pitch a guest for Bullseye, please CLICK HERE. You can also follow Bullseye on Twitter, YouTube, and Facebook. For more about Bullseye and to see a list of stations that carry it, please click here.
Get in touch with the show
How to listen
Stream or download episodes directly from our website, or listen via your favorite podcatcher!