Episode notes
New to Bullseye? Subscribe to our podcast in iTunes or with your favorite podcatcher to make sure you automatically get the newest episode every week.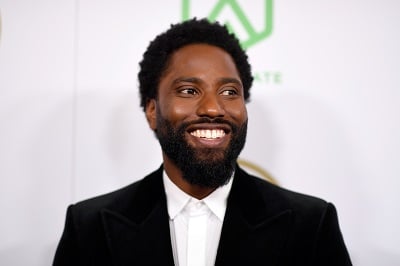 Photo: Frazer Harrison / Getty Images
John David Washington on his role in Spike Lee's 'BlacKkKlansman'
Before John David Washington was an actor, he was lacing up the pads every week for a career in professional football. He spanned the globe from Sacramento to Dusseldorf, Germany trying to make it work. It seems fitting that when he decided to pick up a career in acting that his breakthrough role was the portrayal of an NFL player on HBO's "Ballers." He definitely had the experience. In fact, he was injured from his hard work on the field when he auditioned for the role. He's been part of the main cast of "Ballers" for four seasons, and it's safe to say you'll be seeing a lot more of him soon.
This week, he chats about his portrayal of Ron Stallworth in Spike Lee's "BlacKkKlansman." It's a fantastic performance – his role in the film earned him a Golden Globe nomination earlier this year. It's a compelling and complex look at the life of the first African-American police officer and detective in the Colorado Springs Police Department. The film is based on Stallworth's 2014 memoir, which details his experience investigating the local chapter of the KKK with the help of a white undercover officer.
John David Washington tells us about the insane amount of times he had to audition for his role on "Ballers," and what it was like to chase a career in the NFL when your dad is superstar Denzel Washington. Plus, the challenges of portraying Ron Stallworth, and what it was like to getting stunning offer to play Stallworth via a text message from Spike Lee.
About the show
Bullseye is a celebration of the best of arts and culture in public radio form. Host Jesse Thorn sifts the wheat from the chaff to bring you in-depth interviews with the most revered and revolutionary minds in our culture.
Bullseye has been featured in Time, The New York Times, GQ and McSweeney's, which called it "the kind of show people listen to in a more perfect world." Since April 2013, the show has been distributed by NPR.
If you would like to pitch a guest for Bullseye, please CLICK HERE. You can also follow Bullseye on Twitter, YouTube, and Facebook. For more about Bullseye and to see a list of stations that carry it, please click here.
Get in touch with the show
How to listen
Stream or download episodes directly from our website, or listen via your favorite podcatcher!