Episode notes
New to Bullseye? Subscribe to our podcast in iTunes or with your favorite podcatcher to make sure you automatically get the newest episode every week.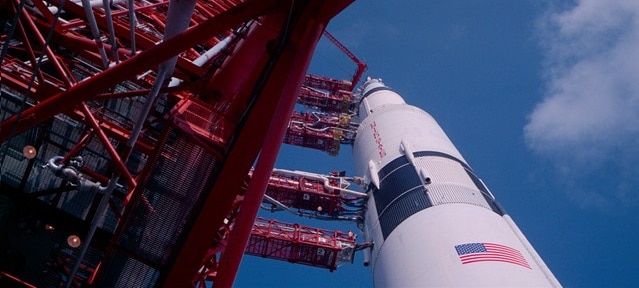 Photo: Neon
Todd Douglas Miller on his new film 'Apollo 11'
There aren't many events in American history more covered in film than the moon landing. You know the story. Neil Armstrong landed the U.S. Apollo Lunar Module Eagle and stepped out first. Then, Buzz Aldrin touched down on the moon's surface 19 minutes later. But you've never seen anything quite like the new documentary "Apollo 11."
The film is a monumental achievement in filmmaking. It uses never before seen archival footage to tell the amazing tale. There's no narration. No interviews. All images and voices from the mission guide us through the journey. We'll chat with director Todd Douglas Miller about the stunning new film. He'll give us behind the scenes look at what it was like to browse hundreds of hours of footage from the 1960's to tell the incredible story.
About the show
Bullseye is a celebration of the best of arts and culture in public radio form. Host Jesse Thorn sifts the wheat from the chaff to bring you in-depth interviews with the most revered and revolutionary minds in our culture.
Bullseye has been featured in Time, The New York Times, GQ and McSweeney's, which called it "the kind of show people listen to in a more perfect world." Since April 2013, the show has been distributed by NPR.
If you would like to pitch a guest for Bullseye, please CLICK HERE. You can also follow Bullseye on Twitter, YouTube, and Facebook. For more about Bullseye and to see a list of stations that carry it, please click here.
Get in touch with the show
How to listen
Stream or download episodes directly from our website, or listen via your favorite podcatcher!