Episode notes
New to Bullseye? Subscribe to our podcast in iTunes or with your favorite podcatcher to make sure you automatically get the newest episode every week.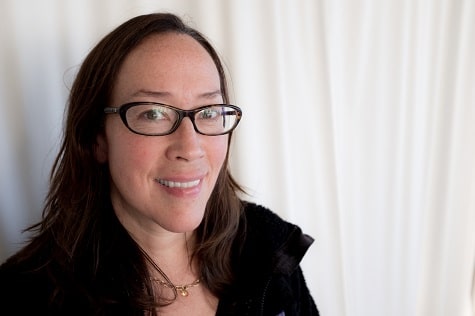 Photo: Jesse Thorn
Karyn Kusama on directing genre films and her new film 'Destroyer'
Karyn Kusama is a director. Her debut was the critically acclaimed drama "Girlfight," a movie about a female boxer that Kusama based on her own time in the ring. Since then, she's established herself as autere of genre films: in 2005 she directed the science fiction film "Aeon Flux," and has worked on horror movies like "Jennifer's Body" and "The Invitation."
She just directed the new film "Destroyer." It's a dark and complex crime drama, told in mostly flashbacks. It stars Nicole Kidman, who plays Erin Bell, an LAPD detective. As a young cop, Bell was placed undercover with a gang in the California desert. Things didn't end well, and the case she was on was never put to rest. When the leader of that gang re-emerges over a decade later, Bell goes rogue reopens the case on her own terms. Kidman's character is haunted by her memory of the past. And it's put a strain on her relationship with her daughter, Shelby.
Karyn discusses why it's important to portray complex female characters in film and media. She'll tell us about the look book she drew inspiration from when she directed 2009's "Jennifer's Body," and why she thinks the film struggled to find an audience when it was first released. Plus, how she finds pleasure in horror movies. And , sure, a lot of people find pleasure in horror films, but Karyn's response will truly surprise you.
If you'd like to hear even more from Karyn Kusama, she did a great interview on the Max Fun podcast Switchblade Sisters with the film critic April Wolfe. You can listen to that interview here.
About the show
Bullseye is a celebration of the best of arts and culture in public radio form. Host Jesse Thorn sifts the wheat from the chaff to bring you in-depth interviews with the most revered and revolutionary minds in our culture.
Bullseye has been featured in Time, The New York Times, GQ and McSweeney's, which called it "the kind of show people listen to in a more perfect world." Since April 2013, the show has been distributed by NPR.
If you would like to pitch a guest for Bullseye, please CLICK HERE. You can also follow Bullseye on Twitter, YouTube, and Facebook. For more about Bullseye and to see a list of stations that carry it, please click here.
Get in touch with the show
How to listen
Stream or download episodes directly from our website, or listen via your favorite podcatcher!