Episode notes
New to Bullseye? Subscribe to our podcast in iTunes or with your favorite podcatcher to make sure you automatically get the newest episode every week.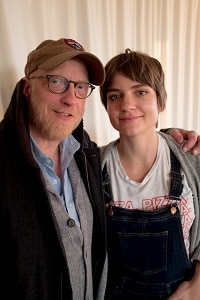 Photo: Jesse Thorn
Chris and Bridey Elliott on 'Clara's Ghost'
Chris Elliott got his start in showbiz as a production assistant on "Late Night with David Letterman," before becoming an iconic writer and performer on that show. One of our favorite bits from him on Letterman included a
parody of Marlon Brando
– in the skit he'd dump bananas out of a sack and slowly dance around them to the tune "The Alley Cat."
After his stint with Letterman, he went on to star in the cult sitcom "Get A Life" and the equally bizarre film "Cabin Boy." Both works have cemented him as an absurdist comedy legend. While those projects are not for everyone; they're a real treat if you can sit though some really cringe worthy moments.
You've definitely seen him in "There's Something About Mary," "Groundhog Day," and "Scary Movie" and in many TV shows, including "The King of Queens," "How I Met Your Mother," and "Everybody Loves Raymond." Most recently, he can be seen as Roland Schitt, the mayor of the small town on Pop Tv's "Schitt's Creek."
Bridey Elliott, his daughter, wrote and directed a new movie called "Clara's Ghost." It's a family collaboration: Bridey also stars in the movie, along with Chris, her sister Abby, and her mother Paula.
The movie takes place over one night. It tells the story of the Reynolds family, who live in a secluded mansion in New England. Chris' character Ted is the patriarch, a comedian past his prime. His daughters work in showbiz, too, but like their dad, haven't gotten a callback in a long time. Then there's Clara, played by Paula Elliott. Clara's discovered a ghost that only she can see.
We'll chat with Chris Elliott about his time on Letterman, and what it was like to work on the strange film "Cabin Boy." Plus, he'll tell us why he doesn't use social media. Bridey will explain how she tried to make horror film that had significant elements of comedy, and how "Cabin Boy" was kind of a horror film when she saw it as a kid. Plus, what it's like when people find out who her dad is, which often garners one of two very different reactions.
Guests
Chris Elliott
Bridey Elliott
About the show
Bullseye is a celebration of the best of arts and culture in public radio form. Host Jesse Thorn sifts the wheat from the chaff to bring you in-depth interviews with the most revered and revolutionary minds in our culture.
Bullseye has been featured in Time, The New York Times, GQ and McSweeney's, which called it "the kind of show people listen to in a more perfect world." Since April 2013, the show has been distributed by NPR.
If you would like to pitch a guest for Bullseye, please CLICK HERE. You can also follow Bullseye on Twitter, YouTube, and Facebook. For more about Bullseye and to see a list of stations that carry it, please click here.
Get in touch with the show
How to listen
Stream or download episodes directly from our website, or listen via your favorite podcatcher!