Episode notes
New to Bullseye? Subscribe to our podcast in iTunes or with your favorite podcatcher to make sure you automatically get the newest episode every week.
If you want to share a segment from this week's show, click on the heading or visit our page on Soundcloud.
This week's show was taped in front of a live audience at KPCC's Crawford Family Forum in Pasadena, California. Thanks to KPCC, the Forum, and everyone who came out that evening! Catch Bullseye every Saturday at 3pm on KPCC.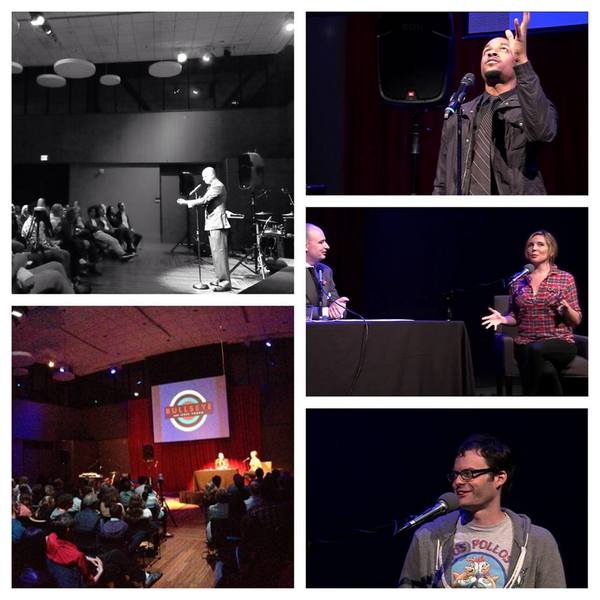 A montage of our evening at the Crawford Family Forum – photo by KPCC
Jasper Redd is Not a Funeral Person
Comedian Jasper Redd stops by the live show to clear up a few things. He's been drinking all week, he stays away from food that's pink and fluffy, and, most importantly, he is not a funeral person.
For more from Jasper Redd, follow him on Twitter.
Painful Experiences and Clown Class with June Diane Raphael
Our first guest on the program is June Diane Raphael. You've probably seen her in a number of TV shows, web series and movies over the past few years — she's played a gynecologist on New Girl, a federal agent on NTSF: SD: SUV::, a dating show contestant and bachelorette on Burning Love, and vapid office worker Tynnyfer on Parks and Recreation.
Raphael co-wrote and co-stars in the new movie Ass Backwards with her longtime friend collaborator Casey Wilson (of Saturday Night Live and Happy Endings fame). The film is available on VOD and is in theaters this week. Raphael and Wilson play Kate and Chloe, two clueless best friends who go on a road trip to participate in their hometown beauty pageant.
Raphael's bond with Wilson goes all the way back to their freshman year of college. It was a special moment in time when they both found themselves in a class dedicated to the art of clowning.
June stops by the live recording to discuss her new movie, one of the worst moments of her life and the dreaded clowning Ring of Fire.
Bill Hader on First Impressions, Vincent Price, and Saying Goodbye to Stefon
You probably know Bill Hader for his spot-on impressions from his eight seasons on Saturday Night Live. They weren't always the most topical — Alan Alda, Peter O'Toole, and Vincent Price don't make the headlines every week — but they were endlessly funny. And yet he came into the SNL fold with nary an impression to his name.
He also helped create original characters like Stefon, the New York City correspondent on Weekend Update, the cranky elderly newscaster Herb Welch, and Italian talk show host Vinny Vedecci.
Hader sits down with Jesse to talk about his favorite sketches that never made it to air, his obsession with old movies and his last moments at SNL.
The Internet Performs "Dontcha" Live
The soul / trip-hop group The Internet, part of the Odd Future collective, stops by to perform their new single "Dontcha."
The band's new album Feel Good is out now. You can also catch them performing at the Odd Future Carnival this Saturday, November 9th in Los Angeles.
The Outshot: Babe: Pig in the City
The natural reaction to talking animals, especially CGI-rendered speech in farm animals, is more than likely a dismissive chuckle. However, an exception should be made for a movie about a brave little pig who takes a dangerous journey through a bustling metropolis. This week, Jesse explains why Babe: Pig in the City depicts one of his heroes.
Guests
June Diane Raphael
Bill Hader
The Internet
Jasper Redd
About the show
Bullseye is a celebration of the best of arts and culture in public radio form. Host Jesse Thorn sifts the wheat from the chaff to bring you in-depth interviews with the most revered and revolutionary minds in our culture.
Bullseye has been featured in Time, The New York Times, GQ and McSweeney's, which called it "the kind of show people listen to in a more perfect world." Since April 2013, the show has been distributed by NPR.
If you would like to pitch a guest for Bullseye, please CLICK HERE. You can also follow Bullseye on Twitter, YouTube, and Facebook. For more about Bullseye and to see a list of stations that carry it, please click here.
Get in touch with the show
How to listen
Stream or download episodes directly from our website, or listen via your favorite podcatcher!