Episode notes
New to Bullseye? Subscribe to our podcast in iTunes or with your favorite podcatcher to make sure you automatically get the newest episode every week.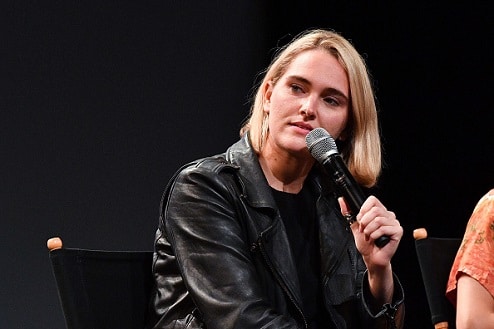 Photo: Dia Dipasupil/Getty Images
Jena Friedman On Writing For The The Daily Show And Breaking Into The Stand-Up Comedy World
WARNING: This interview contains discussions about difficult subjects including sexual assault and miscarriage. If you're sensitive to these kinds of topics, we figured we'd give you a heads up.
Jena Friedman's a comic, a filmmaker, and a writer. She created and hosts a show on Adult Swim. It's called Soft Focus. It's really funny, just like her all of her comedy, but it also talks about some very difficult, sometimes painful topics.
She got her start writing for Late Show with David Letterman. Then moved on to the The Daily Show with Jon Stewart where she was a field producer, producing some of the shows best pieces with folks like Samantha Bee and Al Madrigal. Her segments covered the news of the day with a satirical edge.
Now on her new show, Jena's in front of the camera and the segments can get very, very uncomfortable. She interviews an eccentric billionaire, surrounded by his armed guards. She talks with an ex-cop who was caught plotting to kidnap and eat his wife. She submits male gamers to a VR simulation of unwanted sexual contact.
Jena constantly pushes boundaries in her work. It's political, it's deadpan, kind of abrasive, too. She has a talent in finding the darkest flaws in our world and talking about them in a way that cuts very deep.
In this conversation, she also gets candid about why women still have a hard time breaking into the stand-up comedy world.
You can watch both of Jena Friedman's Soft Focus specials on Adult Swim.
About the show
Bullseye is a celebration of the best of arts and culture in public radio form. Host Jesse Thorn sifts the wheat from the chaff to bring you in-depth interviews with the most revered and revolutionary minds in our culture.
Bullseye has been featured in Time, The New York Times, GQ and McSweeney's, which called it "the kind of show people listen to in a more perfect world." Since April 2013, the show has been distributed by NPR.
If you would like to pitch a guest for Bullseye, please CLICK HERE. You can also follow Bullseye on Twitter, YouTube, and Facebook. For more about Bullseye and to see a list of stations that carry it, please click here.
Get in touch with the show
How to listen
Stream or download episodes directly from our website, or listen via your favorite podcatcher!