Episode notes
New to Bullseye? Subscribe to our podcast in iTunes or with your favorite podcatcher to make sure you automatically get the newest episode every week.
And if you're looking for a particular segment to listen to or share, check us out on Soundcloud.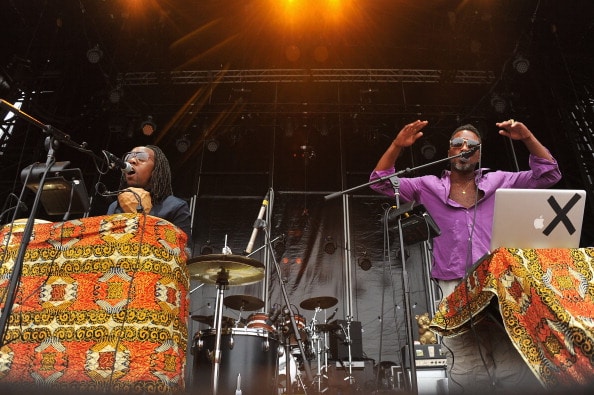 Theo Wargo/Getty Images Entertainment/Getty Images
Ishmael Butler on the Short Life of Digable Planets and the Cosmic Hip Hop of Shabazz Palaces
In the early 1990s, the hip hop group Digable Planets broke through with their single "Rebirth of Slick (Cool Like Dat)". The single was jazzy and laid-back, and became a crossover hit. The trio were pegged by some as a counterpoint to gangsta rap, but they didn't love the efforts to categorize their sound. They went further on their next boundary-pushing release, the classic record Blowout Comb. The album was critically acclaimed, but didn't sell well, and the group drifted apart shortly afterward.
Founding member Ishmael Butler was only in his mid 20s when Digable Planets broke up. And so he tried other things, like filmmaking. He still made music, but the releases were few and far between. About five years ago, he teamed up with Tendai Maraire to form a new group called Shabazz Palaces.
Shabazz Palaces' new release is called Lese Majesty, and it expands on their interstellar sound.
Butler spoke to us about his days as a indie label gopher, the awkward audition Digable Planets had to endure for a record company executive, and the the transformative sounds of Shabazz Palaces.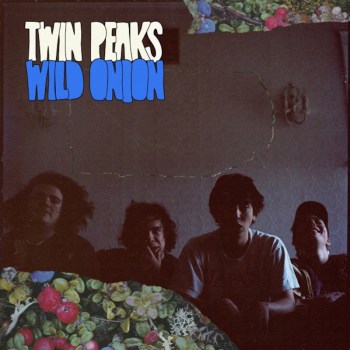 Todd Martens Recommends Pop-Punk and Garage Rock: the Muffs and Twin Peaks
Is there still good pop-punk out there? What's the musical equivalent of a drunk text? Music critic Todd Martens of the Los Angeles Times stops by to answer both of those questions!
He recommends a listen to two new albums: the Muffs' first release in ten years, Whoop Dee Doo, and a new record from Chicago garage rockers Twin Peaks called Wild Onion.
You can find Todd's writing in the LA Times and on their blog, Pop and Hiss.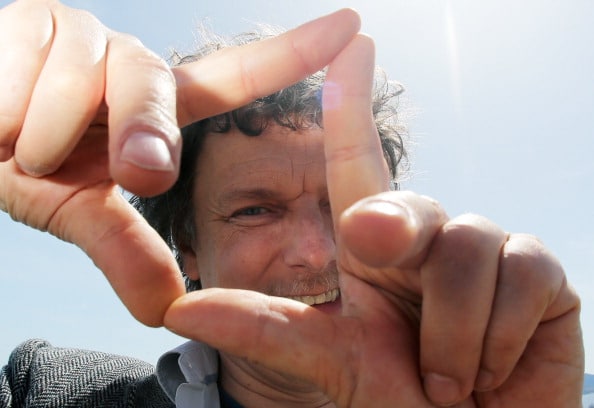 Loic Venance /AFP/Getty Images
"The Song That Changed my Life": Director Michel Gondry Gets Nostalgic for "Le Sud" by Nico Ferrer
There's a certain kind of feeling to the director Michel Gondry's films. A little bit of happiness mixed with sadness. Nostalgia for something that you experienced, or maybe something you wish you had experienced. You may have felt it watching Eternal Sunshine of the Spotless Mind, The Science of Sleep, or his new film Mood Indigo.
For "The Song That Changed My Life", Gondry describes the feeling of saudade and how he felt watching Nico Ferrer perform the song "Le Sud" on a Saturday night.
Gondry's new film Mood Indigo is a fantastical story of love and loss, starring Audrey Tatou and Romain Duris. You can find it in theaters now.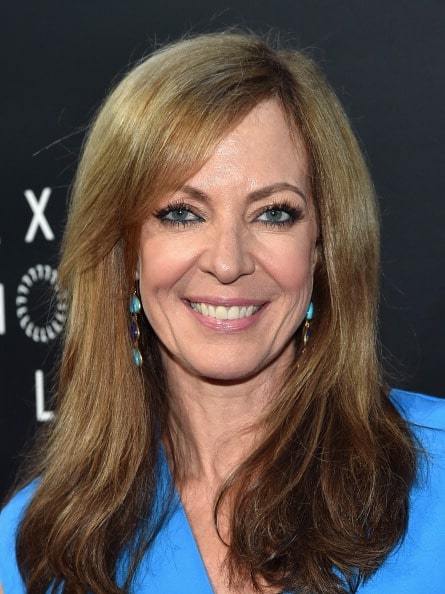 Alberto E. Rodriguez/Getty Images Entertainment/Getty Images
Allison Janney, from Loose Cannon Sitcom 'Mom' to Intimate Drama in 'Masters of Sex'
If you've seen Allison Janney on television lately, it's been in one of two very different roles. On the Showtime series Masters of Sex, Janney guest stars as a somewhat naive, vulnerable 1950s housewife who experiences a breakthrough after many years in a sexless (but not loveless) marriage. Her story is both heartbreaking and hopeful. In the CBS sitcom Mom, she plays Bonnie, a recovering alcoholic who's outrageous, biting, and very funny. Bonnie's been down, but she's making peace with her estranged daughter and getting her life back together. Janney's characterizations are versatile; they allow her to be warm, steely, confident, and thin-skinned by turns. Janney is currently nominated for Emmys for both roles; 'Outstanding Guest Actress in a Drama' for Masters of Sex, and 'Outstanding Supporting Actress in a Comedy' for Mom.
She spoke to us about her early acting days (including auditioning for an intimidatingly handsome Paul Newman), getting comfortable with the inevitable nude scenes for Masters of Sex, and the ways that her mom's background and brother's struggle with addiction gave her insight and empathy for her current roles.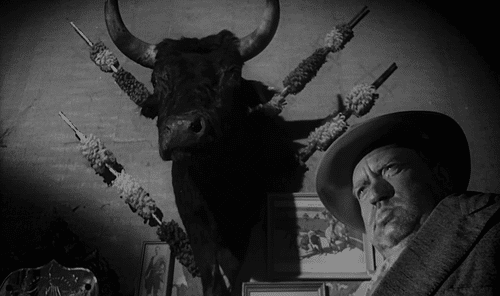 The Outshot: Orson Welles and 'Touch of Evil'
Jesse explains why the last Hollywood picture Orson Welles directed, Touch of Evil, tells us so much about Welles as an artist.
Guests
Ishmael Butler
Allison Janney
Michel Gondry
Todd Martens
About the show
Bullseye is a celebration of the best of arts and culture in public radio form. Host Jesse Thorn sifts the wheat from the chaff to bring you in-depth interviews with the most revered and revolutionary minds in our culture.
Bullseye has been featured in Time, The New York Times, GQ and McSweeney's, which called it "the kind of show people listen to in a more perfect world." Since April 2013, the show has been distributed by NPR.
If you would like to pitch a guest for Bullseye, please CLICK HERE. You can also follow Bullseye on Twitter, YouTube, and Facebook. For more about Bullseye and to see a list of stations that carry it, please click here.
Get in touch with the show
How to listen
Stream or download episodes directly from our website, or listen via your favorite podcatcher!